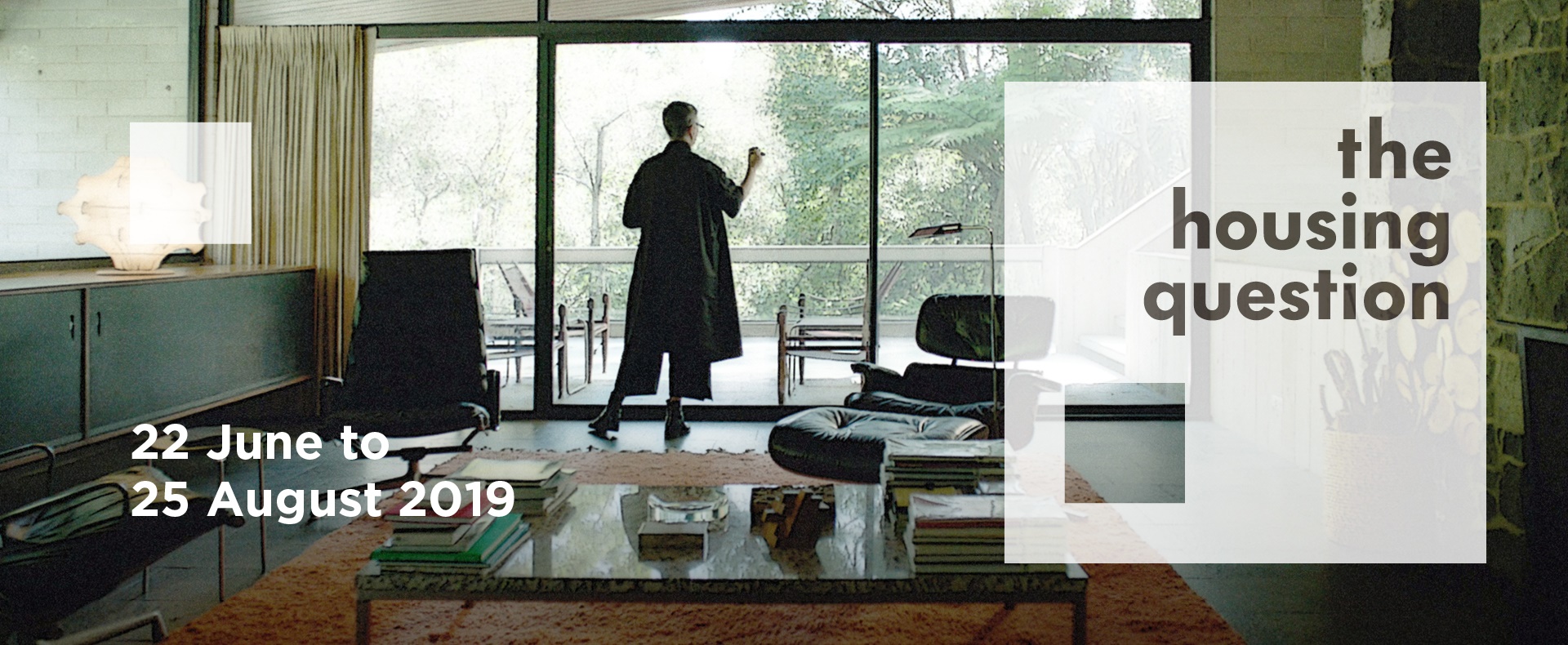 Photo
/ Narelle Jubelin and Helen Grace, sound by Sherre DeLys, The Housing Question, 2019, UHD video still. Courtesy of the artists.
The Housing Question
Helen Grace, Narelle Jubelin and Sherre DeLys
Winter Exhibition Suite 2019
22 June – 25 August
The Housing Question is an extensive multi-art form exhibition by Helen Grace, Narelle Jubelin, with a contribution by sound artist Sherre DeLys. Guest-curated by Julie Ewington, and comprising of video, photography, sculpture and installation, the exhibition occupies the entire Gallery.
The Housing Question takes its title from Friedrich Engels' seminal 1872 texts addressing the severe housing shortages in his native Germany. After nearly 150 years this question remains pressing today. What are basic human rights to secure and affordable housing?  What are one's rights to housing when one is displaced, as hundreds of thousands of people are today?  The issues canvassed by The Housing Question are still central to contemporary social and political debates.
Grace and Jubelin explore these linked issues in a major new 27-minute collaborative video, titled The Housing Question. They start with two exemplary modernist homes. Harry and Penelope Seidlers' house in Sydney's Killara (1967), and Casa Huarte (1966) in Madrid by José Antonio Corrales and Ramón Vázquez Molezún, are almost exactly contemporary statements in modernist architecture, made thousands of kilometres apart in markedly different nations and political circumstances. Yet despite their dissimilar contexts, the Australian and Spanish architects shared globally influential aspirations to assisting the creation of more equitable societies through the provision of excellent and widely available housing.
The focus on the two houses, in Australia and in Spain, leads to considering modernist town planning and mass housing more generally, the role of social housing, and, importantly, the urgent issues surrounding access to shelter, given today's movements of refugees and asylum-seekers. Rich in historical imagery and intimate footage of both houses, The Housing Question connects broad social issues with the personal and emotional impact of modern and contemporary ideas about house and home.
Four geometries chart an open-ended exploration through specific sections of the video: the radial in post-World War I housing developments; the square in the Seidlers' Bauhaus modernism, and also in Josef Albers's Homage to the Square series; the oval in Eero Saarinen's famous Tulip table, seen in Casa Huarte; and the fabricated in the development of mass housing in both Australia and Spain after World War II.  Each section has implications for the others, linking modernist architecture with aspirations for the equitable provision of public housing. None, however, offers definitive solutions.
With sound by Sherre DeLys, editing by Gary Warner and including music by Chris Abrahams, The Housing Question is an important new contribution to international dialogues on these vitally important questions.
The Housing Question is surrounded and extended at Penrith Regional Gallery by works by both artists that draw on longstanding interests in their own separate domestic histories, and are interwoven throughout the various rooms at the Gallery.
Helen Grace is exhibiting two new works created from a photographic archive spanning the last four decades, a period when established concepts of home life were changing rapidly. Living arrangements (1974-2019) tracks a diversity of domestic settings in the 1970s-1980s, from Newcastle (NSW) to the United Kingdom, Hong Kong and Taiwan, and back to Sydney. At the House (1981-2019) expresses the longstanding, and continuing, aspirations of Australian women for safe housing, drawing on the documentation of a Women's Services rally at Old Parliament House, Canberra in May 1981.
Responding to the modernist design of the Ancher House (1961-64), Narelle Jubelin will install Owner Builder of a Modern California House, details (2000-1), a suite of cotton on silk petit-point renditions of colour photographs taken by her father during the construction of the Sydney family home in 1964. This work is supported by the original images, now presented as a projection.
In the historic Lewers House Grace and Jubelin will show photographs, videos and sculptures from 1979 to 2016 that resonate with the original house on this site. Suggesting the interplay between private and public social lives, these include Helen Grace's iconic photo-series Christmas Dinner 1979, showing the many tasks involved in the family celebration; Lounge (2004), a video by Grace, Ian Hobbs and Cheryle Yin-Lo originally commissioned by Penrith Regional Gallery, that traverses the living rooms of Western Sydney, interviewing a wide range of residents about their experience of this crucial domestic space; and several untitled bronze sculptures (all from 2016) by Narelle Jubelin, cast from discarded modular packing, bring the standardised structures of modern urban living under scrutiny.
Taken together, the works in The Housing Question offer a sustained consideration of the complexities of housing and home, safety and security in the two societies where Helen Grace and Narelle Jubelin live, and, by implication, globally. Through works that examine the intimate experiences of home and family, based on photographic imagery, Grace and Jubelin explore wider social narratives in the contemporary world.
---
Missed our public programs for The Housing Question?
Visit our Resources page for video and audio documentation!
Click here
---
The Housing Question Digital Catalogue
Find out more about the exhibition by viewing our catalogue
Learn More