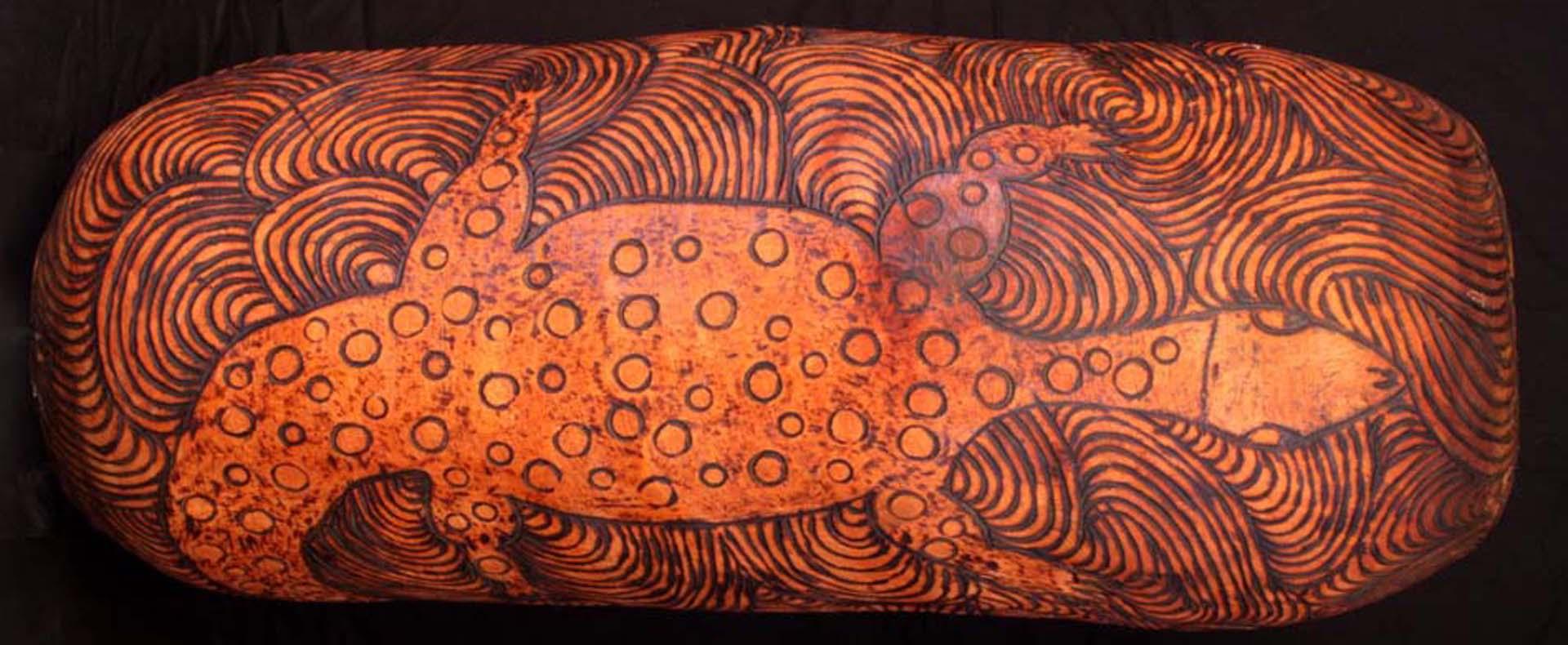 Photo
/ Ivy Ingkatji Pit i c. 1995 Itara (river red gum) 710x195x290mm
Punuku Tjukurpa
Where the traditional and the modern meet
Autumn Exhibition Suite 2016
An exhibition celebrating the stories and Law of Anangu culture told through intricate carvings and artefacts, Punuku Tjukurpa is the first touring exhibition of artworks from the Maruku Arts archive based at Mutitjulu, near Uluru in the Northern Territory. Accompanying the exhibition is a bespoke mobile app to provide a deeper engagement with the diverse works featured in Punuku Tjukurpa.
Presented by Artback NT, Punuku Tjukurpa is an exhibition showcasing a rich, sacred history and deserves national attention, as explained by Louise Partos, Executive Officer of Artback NT.
"Punuku Tjukurpa offers a privileged insight into one of Australia's finest art movements and is an exhibition of national significance. Punu (carved objects made of wood) is a significant and prolific art form in Central Australia and its production and display are integral to the maintenance of culture and to the sharing of knowledge", she said.
Artback NT's first mobile app produced especially for the exhibition is an exciting addition to an already captivating show. An inclusive and dynamic way to introduce visitors to a very special exhibition, the app allows for more detailed interaction through audio descriptions of selected objects, a walking tour and educational activities. The Punuku Tjukurpa app reveals the creative role a modern technology can play in showcasing an exhibition that's centered around traditional artwork, stories, techniques and processes.
Punuku Tjukurpa includes 88 punu objects, alongside sculptural works, 2D pieces and specially produced audio and video footage. Pieces in Punuku Tjukurpa include works made by three generations of artists for whom the tradition of wood carving and painting has been passed down. Artists have shared the teaching of stories that inform the intricate designs and markings incorporated in the objects. The title of the exhibition, Punuku Tjukurpa, describes the story and the Law behind these works.
Selected artworks in Punuku Tjukurpa have been audio described for visitors with visual impairment. Delivered via MP3 players at the venue, these audio descriptions assist in increasing access to the arts and enable those with an impairment to still be immersed in the exhibition.
Artback NT, in association with Maruku Arts, presents Punuku Tjukurpa, the first touring exhibition of artworks from the Maruku Arts archive based at Mutitjulu, near Uluru in the Northern Territory.
View the Education Kit here.
Ka punu nganampa tjuta palya ananyi tjana nyakuntjaku. Wiru nyangatja. Tjana nyakula kulilpai alatji palyalpai munu memory tjuta ngananana Kanyilpai
It is good that our carvings should go out to the world for all to see. This is a good thing. People can see and understand how things are made and that we have a lot of memories [in our collection].
Artist Niningka Lewis, Punuku Tjukurpa
---
Autumn Exhibition Suite 2016 Digital Catalogue
Find out more about the exhibition by viewing our catalogue
Download now