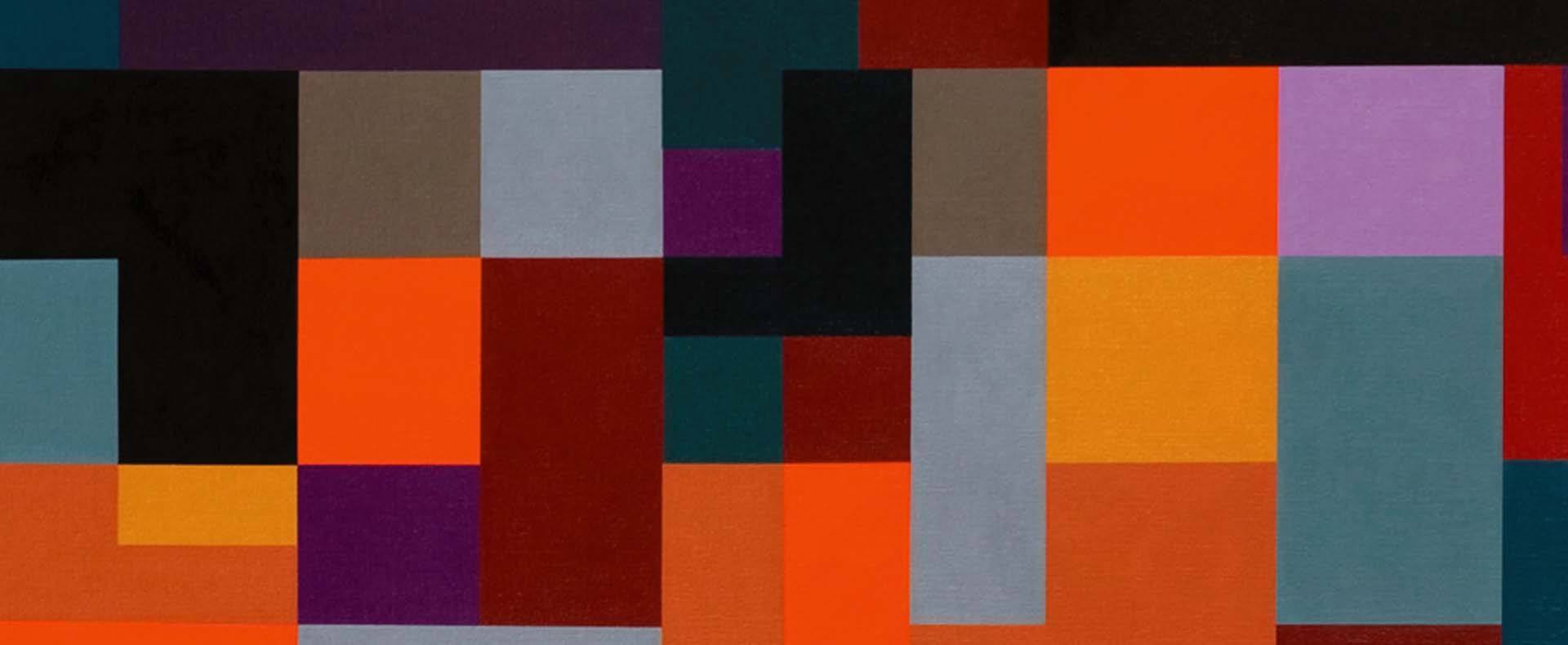 Photo
/ Stephen Wickham, Dark Mantra #1 (detail), 2007, oil paint on linen, 90 x 120cm
Visions of Utopia
Bringing some of Australia's finest exponents of abstract painting and non-objective art.
Autumn Exhibition Suite 2017
Curated by Andrew Christofides, Visions of Utopia brings together some of Australia's finest exponents of abstract painting and non-objective art, including: Melinda Harper, Ralph Balson, Frank Hinder, David Aspden, Col Jordan and Grace Crowley.
The exhibition looks at work by thirty Australian artists who have pursued the idea of an art based on a visual language that derives from the formal elements of painting, and more importantly it explores the ongoing interest in what is commonly termed the 'Non-Objective' in painting.
Non-Objective art is one of the great pillars of modern art. It defines a type of abstract art that reduces ideas and elements to their barest, to their most minimal, to convey a sense of simplicity and purity. It is art for art's sake unburdened or shackled by many of the concerns of other visual art modes.
Its exactness and struggle for perfection often lends it an air of cerebral and intellectual soberness, however by tapping the visual language of abstract forms and colours it has the capacity to transcend cultural and physical boundaries, to express the inner need of the artist and create an aesthetic experience which conveys universal human emotions and ideas.
Within Australia this tradition has been explored by generations of artists over the last eight decades and Visions of Utopia looks at this tradition through historically significant works.
Visions of Utopia is an evocatively titled exhibition that conjures images of an aspirational attainment of perfection, a notion closely aligned to artists working within the Non-Objective art frame and thus an eminently appropriate showcase for the artists whose work is presented in this exhibition.
A Wollongong Art Gallery touring exhibition.
---
Autumn Exhibition Suite 2017 Digital Catalogue
Find out more about the exhibition by viewing our catalogue
Download now