Live Performance: Jannawi Dance Clan
Public Program
Join us for a live performance from 52 Actions exhibiting artists Jannawi Dance, an Aboriginal dance company that centres on Indigenous storytelling through dance and performance. Jannawi means 'with me, with you' in Darug language. As a dance collective they celebrate the strength, resilience and stories of Aboriginal people in NSW. Community, identity and culture are strong values in their practice with a larger commitment to revitalise language and heighten the voices of Darug peoples and histories. 
Free, bookings essential.
Saturday 12 November 2022, 1:30pm – 1:50pm
Jannawi Dance Clan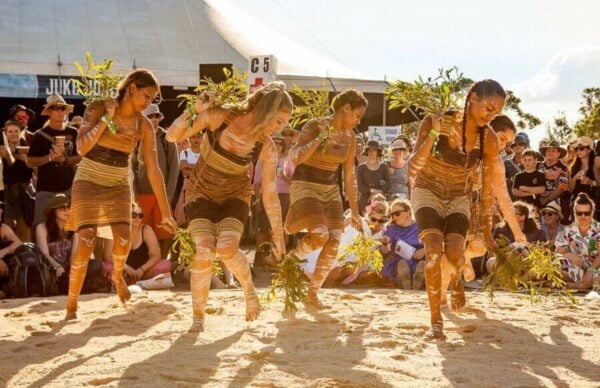 From the rich story telling traditions of Aboriginal NSW Jannawi Dance Clan shines a light on strength, resilience and artistry of Aboriginal women, men, youth and dance culture today. 
Jannawi Dance Clan is an Indigenous dance company encompassing modern urban and traditional Aboriginal dance styles with traditional music by Jannawi Song women and song man Matthew Doyle singing in the Sydney languages.  
The name Jannawi means 'with me, with you' in the Darug language of NSW Jannawi has a passion and are dedicated to continue and revitalize Sydney's language culture and stories. 
Jannawi Dance Clan's work involves performing traditional ceremonies, welcome to country dances, contemporary dance, music festivals, community and corporate events, educational school shows and workshops for early childhood, primary, high school and teaching in communities.
Jannawi practices, performs and teaches to inspire other indigenous people to practice cultural values and identities. To be proud and show our commitment to honour and share knowledge, encourage awareness and understanding of the world's oldest living indigenous cultured by Artistic Director Peta Strachan is a descendant of the Darug people, of the Boorooberongal clan of NSW. Peta is a professional dancer choreographer, teacher and costume maker with over 31 year's experience in the industry. 
Peta trained at the Castlereagh school of performing arts, NAISDA (National Aboriginal and Torres Strait Islander Dance College. In 1994, Peta was invited to join AIDT Aboriginal Islander Dance Theatre then joined Bangarra Dance Theatre in 2000 for four years. Touring nationally and internationally with both companies. 
Peta then formed Jannawi Dance Clan in 2008 then went on to be Artistic Director of the official Indigenous Australia day morning ceremony Waggan ma gule at the Royal Botanical Gardens of Sydney for five years. Peta has also played a big role over the years at Sydney Opera House under the Direction of Rhoda Roberts for message stick, Homeground and Dance Rites Festivals directing opening ceremonies, performing and judging for Dance Rites.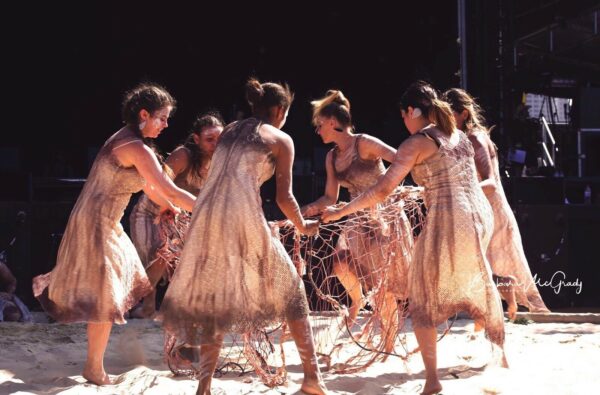 Jannawi has intrigued audiences nationally and internationally some highlights for Jannawi is performing at the international blues and roots festival Byron Bay/Boomerang Festival over the years Jannawi toured with the Boomerang Project to the Glasgow Games Scotland, Isle of Lewis and Womad Festival New Zealand, and recently Rainbow Serpent Festival.  
The dance clan members come from diverse Aboriginal and/or Torres Strait Islander communities from around the county and consists of world class professionally trained multi skilled performing artists, whilst engaging with and mentoring community performers to be a part of and perform with Jannawi. 
Jannawi is committed to nurturing a strong cultural and contemporary identity, following the traces of our ancestor's footprints.  
This is achieved by remaining strongly connected to the roots of its tradition, and creating a cultural pathway of dance, song and stories, from both past and present.