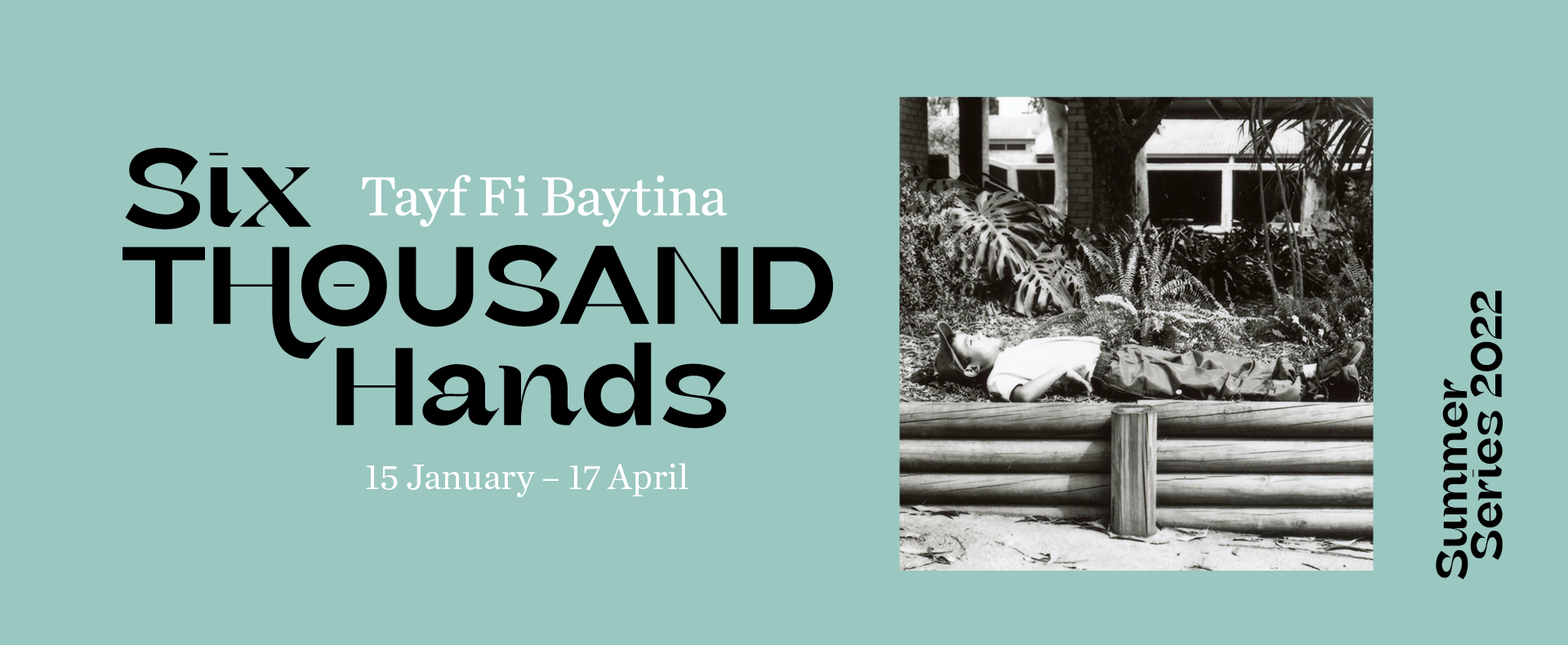 Six Thousand Hands
Tayf Fi Baytina
From The Collection is a series of exhibitions, commissions and interventions presented in the spirit of Margo Lewers and her wish that her home and collection of artworks be gifted to the people of Penrith. This program invites artists, curators and members of the local community to engage with the Gallery's collection, providing fresh perspectives and insights.
Lebanese-Australian writer Maryanne Taouk has been invited to address the continued influence of the Lewers, both through their gifting of the garden and site to the local community, and also the artistic impact of Margo's work. After undertaking interviews with Gallery staff, local artists and members of the Friends of the Gallery, Taouk has authored a text that addresses the idea of ownership within the local community.
Titled Six Thousand Hands: Tayf Fi Baytina (The Ghosts in our Home), the text embraces the metaphor of the ghost as a way of exploring presence, ownership and the interpersonal connections that have developed at the Gallery over time.
This collection display focusses on a series of Margo's artworks from the 1960s and 70s, with an emphasis on her turn towards hard edge abstraction, experimentations with colour palette, and most notably her work on cotton and other unstretched fabrics and materials. With Margo's experience operating Notanda Gallery as an outlet for interiors and textiles, these works illustrate a deft understanding of the material interplay between textile and light.
By contrast, Taouk has also selected photographs from Harold David's Tracksuits from St. Marys project. Commissioned by Penrith Regional Gallery in 2007, the project saw David meet and photograph residents of nearby St. Marys as a means to investigate the attire as a symbol that transcends fashion, class, age and culture.
About Maryanne Taouk
Taouk is a writer and journalist from Orange in the Central West of NSW and now lives in Western Sydney. She is a journalist and published writer for the StoryCasters project as part of NSW's Diversity Arts. Her writing draws on her own background as an Arab woman in Australia and focuses on her experiences with culture, and history. Her works have been featured in Fairfield Regional Gallery, the Sweatshop Women's Anthology: Volume Two and at the Maritime Museum.
15 January – 17 April 2022
Please click here to check the Gallery's Open Hours ahead of your visit