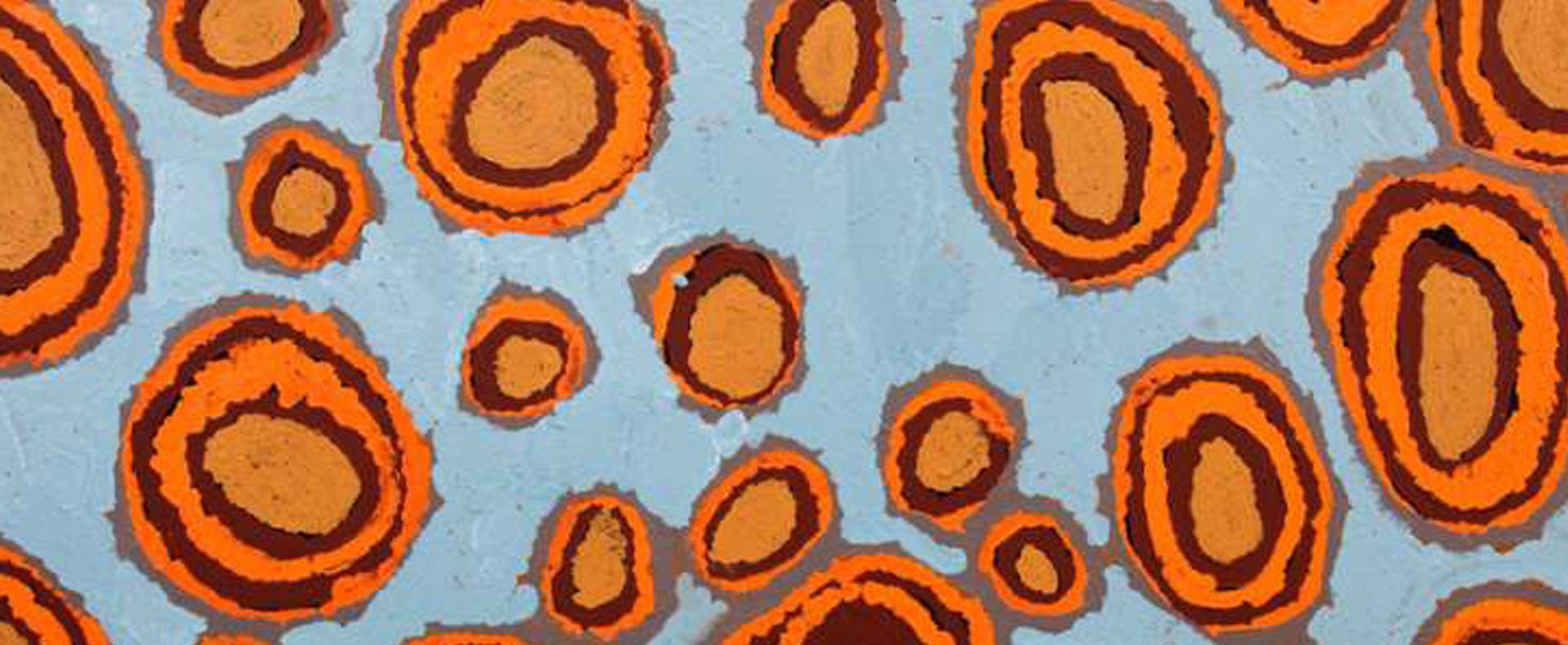 Photo
/ Inyuwa Nampitjinpa, Women's Dreaming Place, (detail), 1997, acrylic on canvas © the artist licensed by Aboriginal Artist Agency Ltd.
Celebrating Philanthropy – Robin Gurr
Celebrates the ongoing association between Penrith Regional Gallery and lawyer and art collector Ms Robin Gurr.
Autumn Exhibition Suite 2016
The works on display have been selected from a total of 52 Aboriginal works donated to the Gallery by Robin Gurr under the Australian Government's Cultural Gifts Program. The importance of this relationship is recognised by the Gallery in the creation of a formal collection strand to be known as the Robin Gurr Collection.
Penrith Regional Gallery & The Lewers Bequest is the outcome of a grand philanthropic gesture. It was the vision of modernist artist Margo Lewers that her former home and artwork collection be gifted to the people of Penrith in order to create a vibrant centre for art. This gift was formally received by Penrith City Council in 1980. In subsequent years both PCC and State Government supported a building works program resulting in the Main Gallery and development of administrative spaces, studios and collection area.
Importantly, the Gallery has focused on collection strands which include modernist art, contemporary art and Aboriginal artworks. A strong impetus for this direction has been the Gallery's role as custodians of two Aboriginal rock carvings located within the Gallery grounds at the front of Ancher House. These works were rescued from destruction by Gerald Lewers during the construction of the Warringah Expressway at Brookvale in 1961.
Since 2010 Robin Gurr has donated a range of paintings, sculptures and woven works, primarily gathered from Aboriginal communities in her travels throughout regional and remote Australia. Exhibited together, these artworks reveal a personal narrative journey into country, connecting creator and collector.
As such, the works from the Robin Gurr Collection can offer enriching exhibition and educative experiences and opportunities. These benefits were first showcased in the 2010 exhibition Gathered Up: The Gurr Collection in which a number of works on display were included in an exhibition catalogue and accompanied by an education booklet. Since that inaugural exhibition, the donated works have continued to feature in Collection exhibitions as well as educational programs for both local and international groups.
The works in this exhibition present a selection of traditional stories and interpretations as shared by the Aboriginal artists who created them. The richness of the colour and patterns of the landscape demonstrates alternate expressions of Dreaming and ceremony as well as topographical depictions of communities and their regions.
Our thanks and appreciation go to Robin Gurr for the generous donation of artwork and for her ongoing support of Penrith Regional Gallery & The Lewers Bequest.
---
Autumn Exhibition Suite 2016 Digital Catalogue
Find out more about the exhibition by viewing our catalogue
Download now