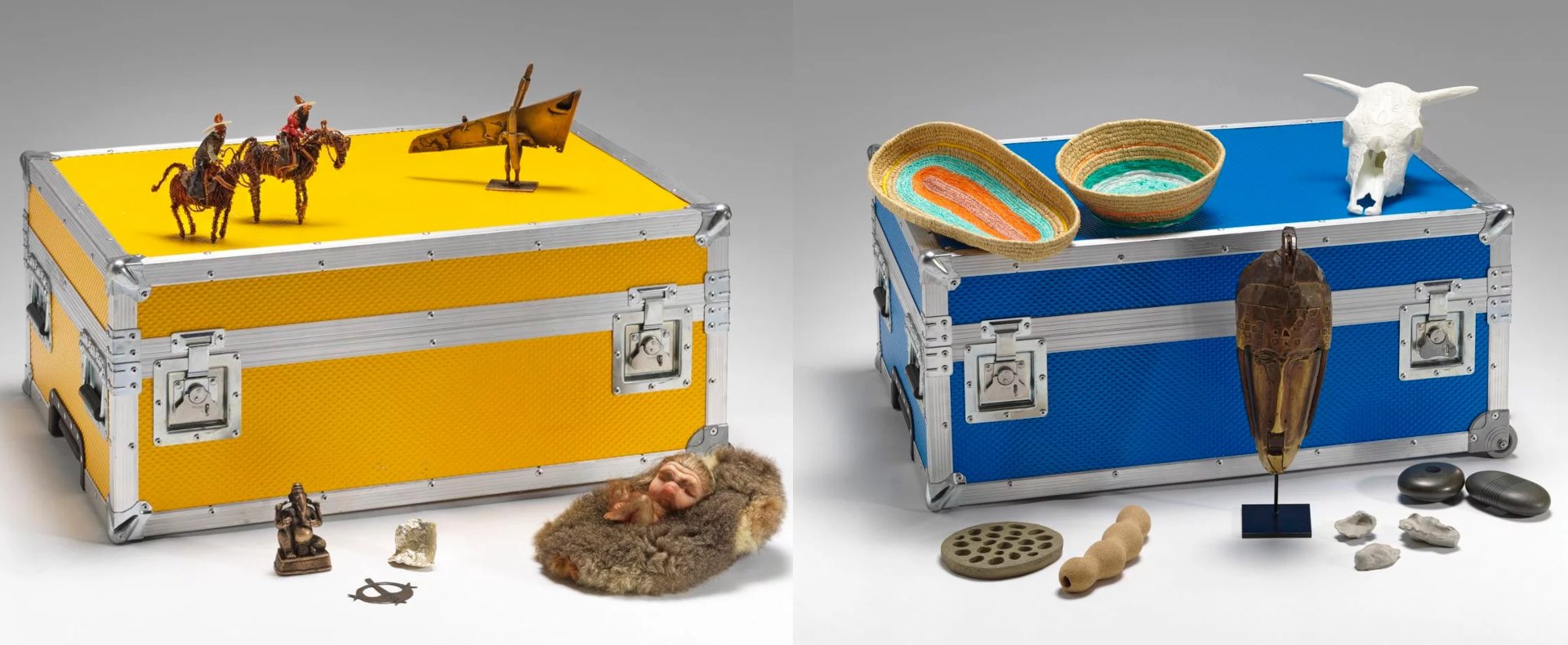 Photo
/ Installation view, 'Past, Present and Future' Art Case (yellow), 2023, National Gallery of Australia, Kamberri/Canberra © the artists
National Gallery Art Cases
Incursions for schools and early learning centres
Have you ever wanted to see – and touch – works of art from the national collection? The National Gallery of Australia's Art Cases offer the chance to do just that.
From 16 October – 10 November, Penrith Regional Gallery, Home of The Lewers Bequest will bring Art Cases to your school or learning centre. Our educators will run an interactive program centred around object-based learning. This program is tailored to suit the groups needs and suitable for preschool, primary and secondary students as well as aged care facilities.
Choose from two themed art-filled cases:
The Earth Art Case brings together artists who reflect on the importance of the natural world and our place within it. From time immemorial, the natural world has been a source of inspiration for artists to articulate the different yet profound ways cultures connect and respond to the environment. The works in this case span longstanding and contemporary art practices, demonstrating a variety of spiritual, cultural and artistic connections to nature. From the biological to the geological, the microscopic to the visible, the artworks ask us to consider our responsibility to protect and preserve the intricate and extraordinary diversity of the natural world.
The Past, Present and Future Art Case brings together works that reflect on or are invested with the passing of time. These forms could be time itself, the human experience of history, or the influence of events in determining the possible future. Exploring the past, present and future in insightful ways, the works in this case allow audiences to engage with specific moments in history and speculative futures. From futuristic creatures to bronze sculptures of worship, the Past, Present and Future case asks us to consider our personal relationship with history and the future we are making together.
BOOK:
Contact our Learning Coordinator gemma.mckenzie-booth@penrith.city or fill out our booking form to book a hands-on experience of learning, artmaking and storytelling.
The Art Cases are generously supported by the Neilson Foundation with grateful acknowledgement of founding patrons Elaine and Jim Wolfensohn.
Ticket Type
Ticket Description
Ticket Price
Standard
Free (Up to 30 students)