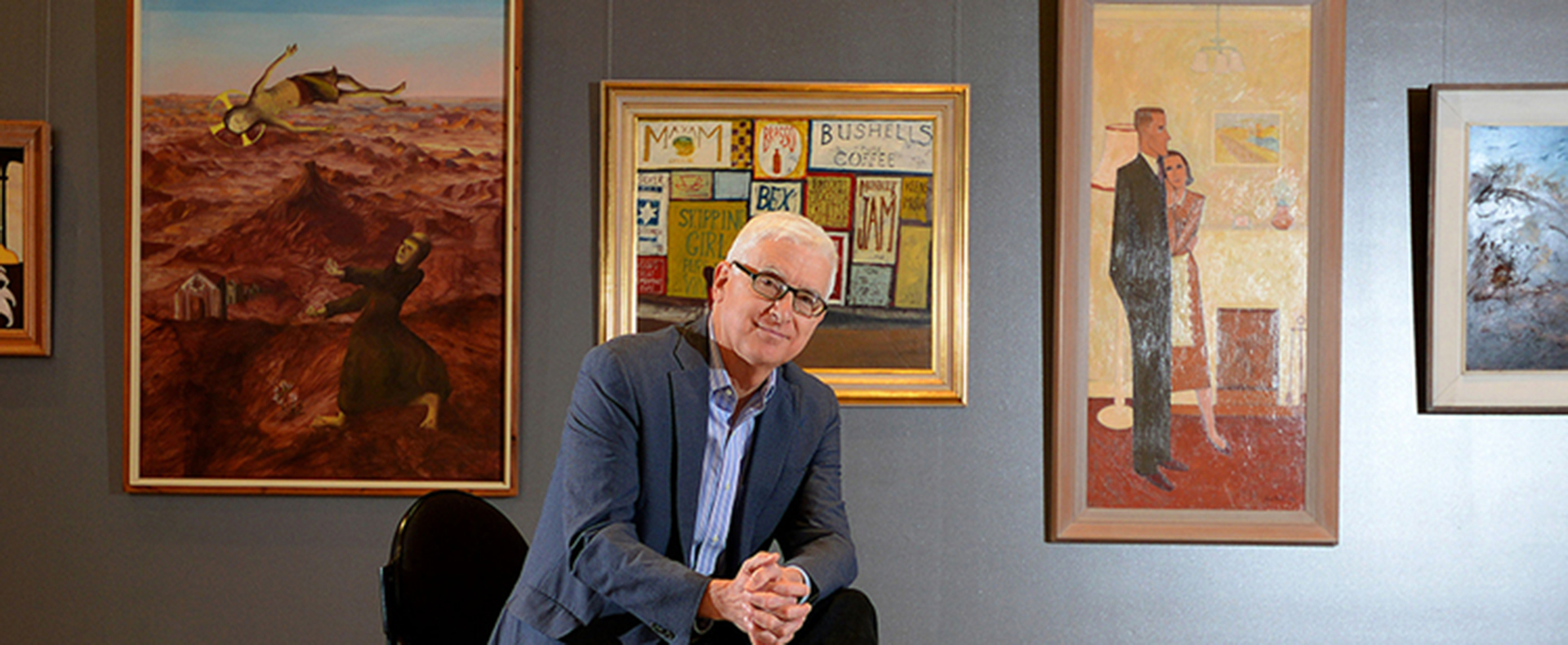 Photo
/ Grundy Collection curator John Cruthers with some of the Reg Grundy collection which is on display at The Maritime Museum in Fremantle. Pic:Ian Munro The West Australian
John Cruthers in Conversation
Gifting exhibition - Public Program
Leading Australian art advisor and private collector John Cruthers talks about his mother's decision to begin collecting women's art in 1974, leading to their choice to gift 460 works from the Cruthers Collection of Women's Art to the University of Western Australia in 2007. He will also outline their ongoing work with Sheila: A Foundation for Women in Visual Art.
Speakers: Sheona White, Merryn Schriever & John Cruthers
Free.
RSVP appreciated gallery@penrith.city or 4735 1100
John Cruthers
John Cruthers is one of Australia's leading art advisers and private curators. He works with private collectors and advises in the areas of Australian historical, contemporary and indigenous art, international modernism of the late 19th-early 20th century and South East Asian art.
He has been the guiding hand behind several of Australia's most interesting private collections, including the collection of Reg Grundy and Joy Chambers-Grundy, the Cruthers Collection of Women's Art and The Lepley Collection of Aboriginal art.
John's approach is customised for each collector. It is based on education and inspiration, to enable the building of outstanding collections that reflect the passions and interests of individual collectors. In the end, great collections are not about money. They are driven by vision, commitment, intellectual engagement and the desire to create something original and culturally valuable.
Merryn Schriever
Merryn Schriever is Director of Bonhams Australia, having joined Bonhams in 2013. Merryn has overseen significant diversification and expansion of the company's presence in the Australian market, resulting in important consignments for sale in both Sydney and Melbourne, as well as Hong Kong, London and New York. Within five years, Merryn has expanded Bonhams market presence dramatically and increased international revenue from 5% to 42%.
In 2018, Merryn lead the consignment and sale of the collection of the late Michael Hobbs. A highlight from the collection, Frank Auerbach's Figure on a Bed II, 1967, sold in London by the company's Post War and Contemporary department, achieved an excellent result of £1,448,750.
Prior to joining Bonhams, Merryn was a Senior Specialist with Australian auction house Deutscher and Hackett for five years, and previously held a position with the Art Gallery of New South Wales in Business Development and Protocol. Merryn started her career in 2001 with Stills, a prominent contemporary art gallery in Sydney.
Merryn holds a Bachelor in Fine Art degree from the National Art School, Sydney, and post-graduate qualifications in Business Management from the Macquarie Graduate School of Management.
Sheona White
Sheona White is the Director of Penrith Regional Gallery, Home of the Lewers Bequest. She has overall responsibility for artistic programming strategy across the key areas of the Gallery in exhibitions, collection, public, education and community engagement.
Sheona's professional purpose is to explore and develop visual arts advocacy through community, education and public engagement and build an exchange of ideas in the arts. Her aim is to deliver meaningful programs and facilities drawn from needs analysis and sound curatorial rationale. Through her work on community contemporary art exhibitions, late night programming, festivals, concerts and cross generation visitation, she promotes public understanding and enjoyment of art grounded in research and committed to sustainability and inclusion.
Sheona has developed and initiated key programs in many cultural institutions including the National Museum of Australia, the National Gallery of Australia, City of Sydney Libraries, the Art Gallery of NSW, the Museum of Contemporary Art and Wollongong City Gallery.