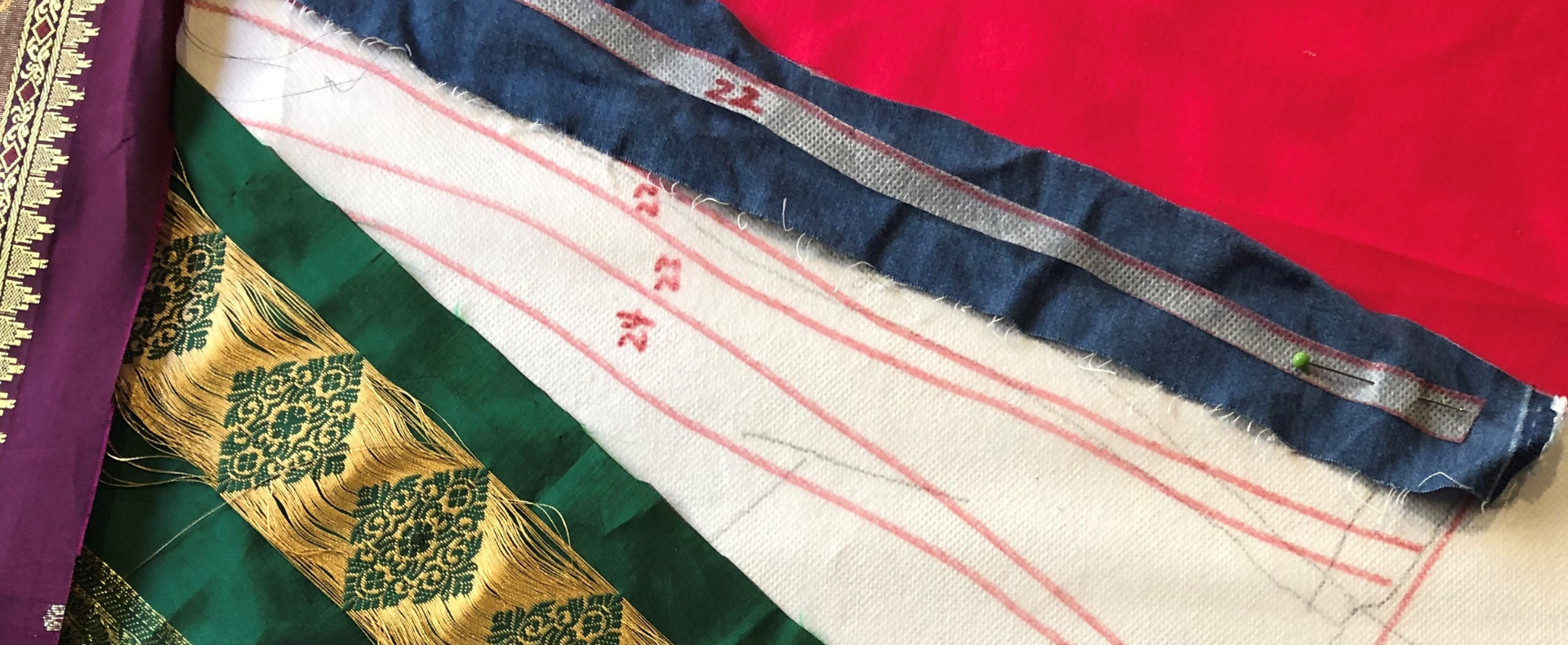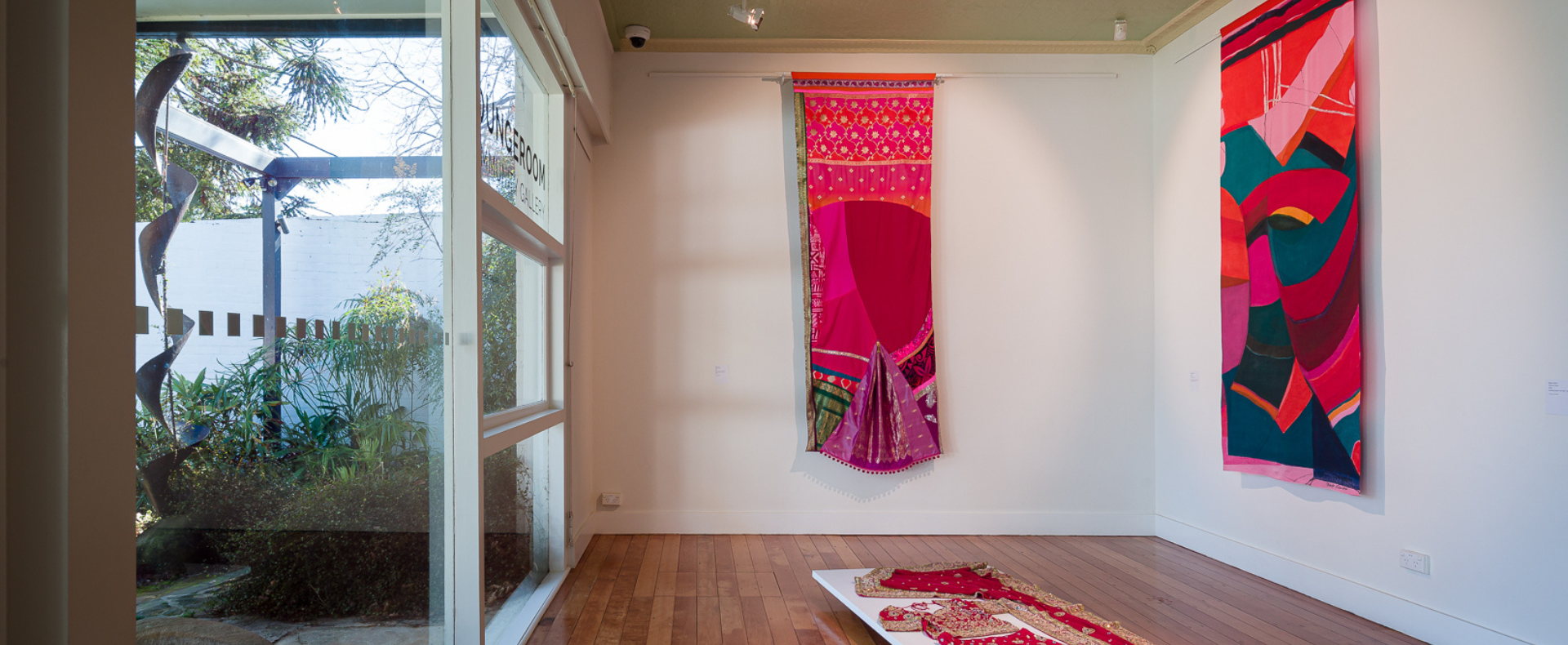 Photo
/ Anjum Olmo, Silk Highways, 2023, installation view, Penrith Regional Gallery. Photo: Document Photography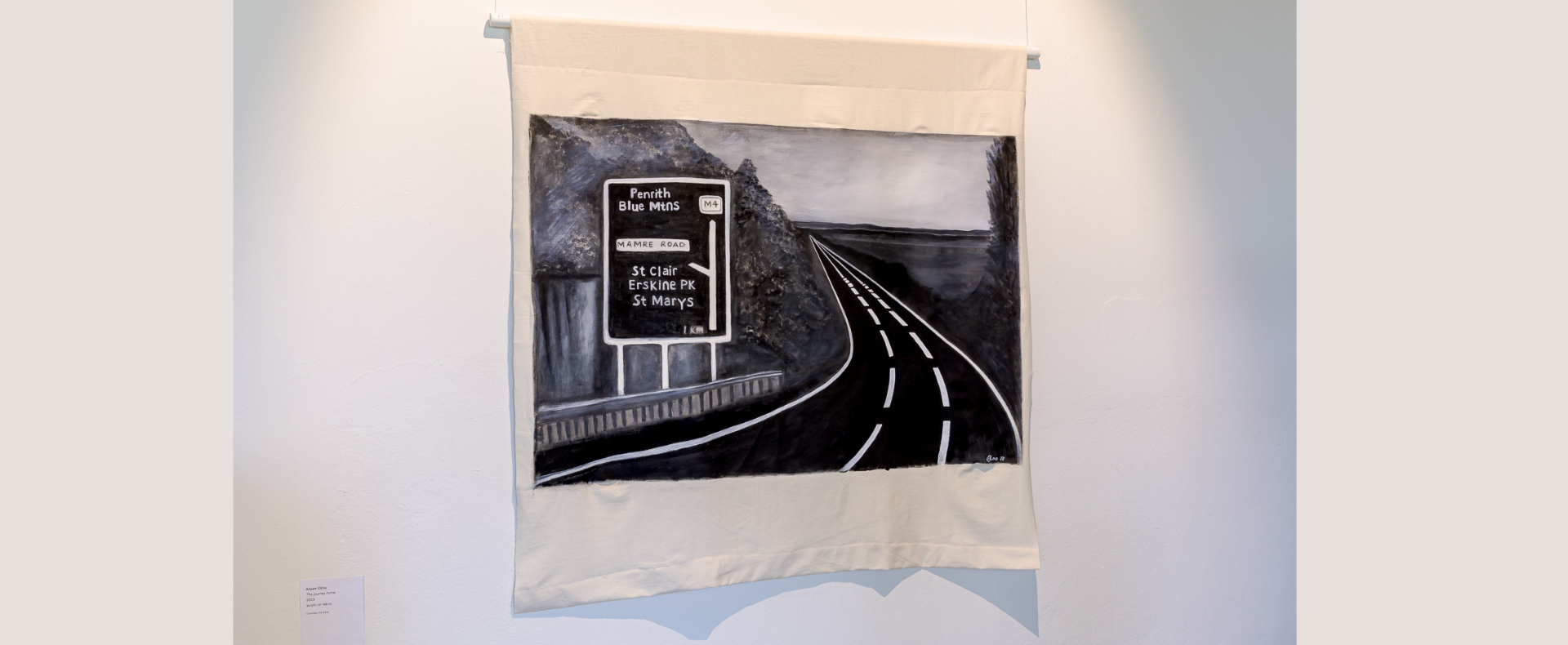 Photo
/ Anjum Olmo, The journey home, 2023, installation view, Silk Highways, 2023, Penrith Regional Gallery. Courtesy of artist. Photo: Document Photography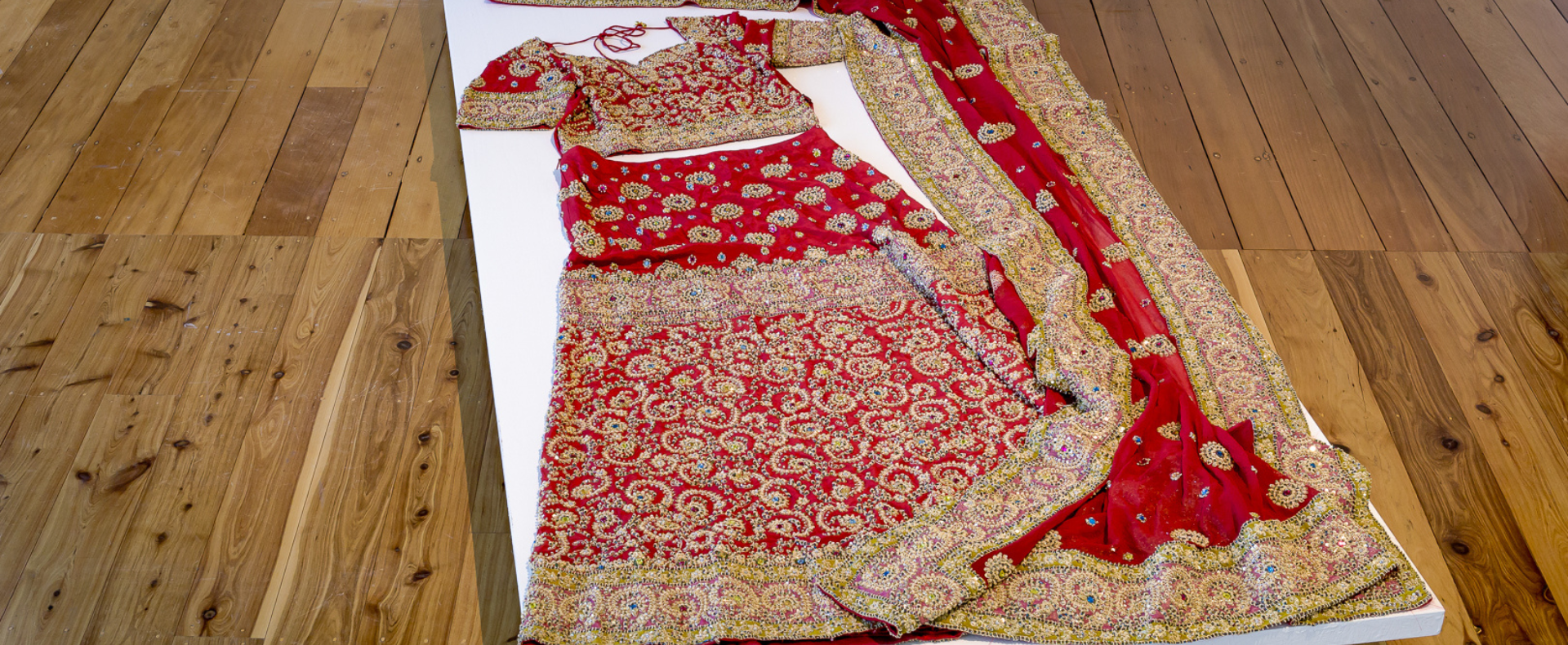 Photo
/ Anjum Olmo, Red and Gold, 2023, installation view, Silk Highways, 2023, Penrith Regional Gallery. Courtesy of artist. Photo: Document Photography
Anjum Olmo:
Silk Highways
Until 3 September
'You must experiment and experiment' – Margo Lewers, 1975
It was these words by Margo Lewers that inspired a new direction for me working with textiles – a material that has always been close to my heart. After viewing her painted fabric, Untitled (1975) one of Margo's last works made before her death in 1978, the spark of an idea for Silk Highways was formed.
Silk Highways is an expression of my identity, reflecting upon childhood memories of grappling with a sense of belonging, and family traditions that differed to the dominant culture at school and with friends. It is an exploration and illustration of who I am, expressed through an acknowledgement of my culture. I was born in Sydney; my mother is Indian Fijian, and my father was Pakistani. The purpose of these works is to explore my heritage and reconnect with characteristics of these cultures through discovery and self-reflection.
For Silk Highways I have created a wall hanging inspired by Margo's work, with curved interlocking and overlapped shapes in a tonal variation of pink. Margo's use of colour was strong and bold, and this was represented in every aspect of her life, including her house and garden here in Emu Plains. Margo's use of bold colour was ahead of her time, and I see similarities in how colour is used in South Asian cultures, as a way of life expressed in the ceremonial and the everyday. My work includes intricate Indian and Fijian fabrics interwoven with silk, chiffon and cotton cut from garments sourced in western Sydney and Fiji, some given to me by family.  The loose threads reflect on my own experiences growing up, and in contrast to these traditional materials I have also used contemporary fabrics such as poplin and denim, everyday materials that bridge East and West, and form my own sense of identity.
There was a long construction and reconstruction process while making the wall hanging. Lots of unthreading, patching, adding, and taking things away, and in the process making peace with who I am and where I am at in my life. I have included a display of the Ghagra Choli I wore on my wedding day in 2005, which for me, was an important moment of self-acceptance expressed in dress, material and colour.
The painting, The Journey Home reflects on a familiar scene from my childhood. My parents migrated to Australia in 1978 after their arranged marriage in Fiji. Our first home was in St Marys, just off Mamre road. After my parents separated, I spent hours on the road going to each parent's house. While it was a long journey, the conversation was always flowing, and this gave me a sense of comfort. I now live in the Blue Mountains and still travel on the M4 including coming to work at Penrith. There is a feeling of both nostalgia and familiarity travelling along this highway, as it reminds me of where I've come from and where I'm going. As well as the network of paths and experiences that make us who we are, that often traverse fixed ideas that we might have about East and West or tradition and lived experience. It has become my silk highway.
–  Anjum Olmo, 2023
ABOUT THE ARTIST
Anjum Olmo is a Blue Mountains based artist who has drawn from a young age. She has a Diploma in Visual Arts from the Design Centre Nepean, and Diploma in Interior Decorating and Styling from the Design Centre Enmore. Anjum's expressive and playful approach to her art practice combines mark making, patterning and a gestural use of colour. Mindfulness is the foundation of her practice with each artwork evolving as a visceral embodiment of her connection to the Blue Mountains which provides an unending source of inspiration.
For Silk Highways, Anjum's practice has expanded to working with textile constructions that include fabrics passed down from family members. This embrace of a new medium is an acknowledgment of her inherited cultural background and the significant role it has played in her life. Anjum has been involved in several group show exhibitions in various galleries throughout Sydney and the Blue Mountains. Silk Highways is her second solo exhibition.
22 July – 3 September 2023