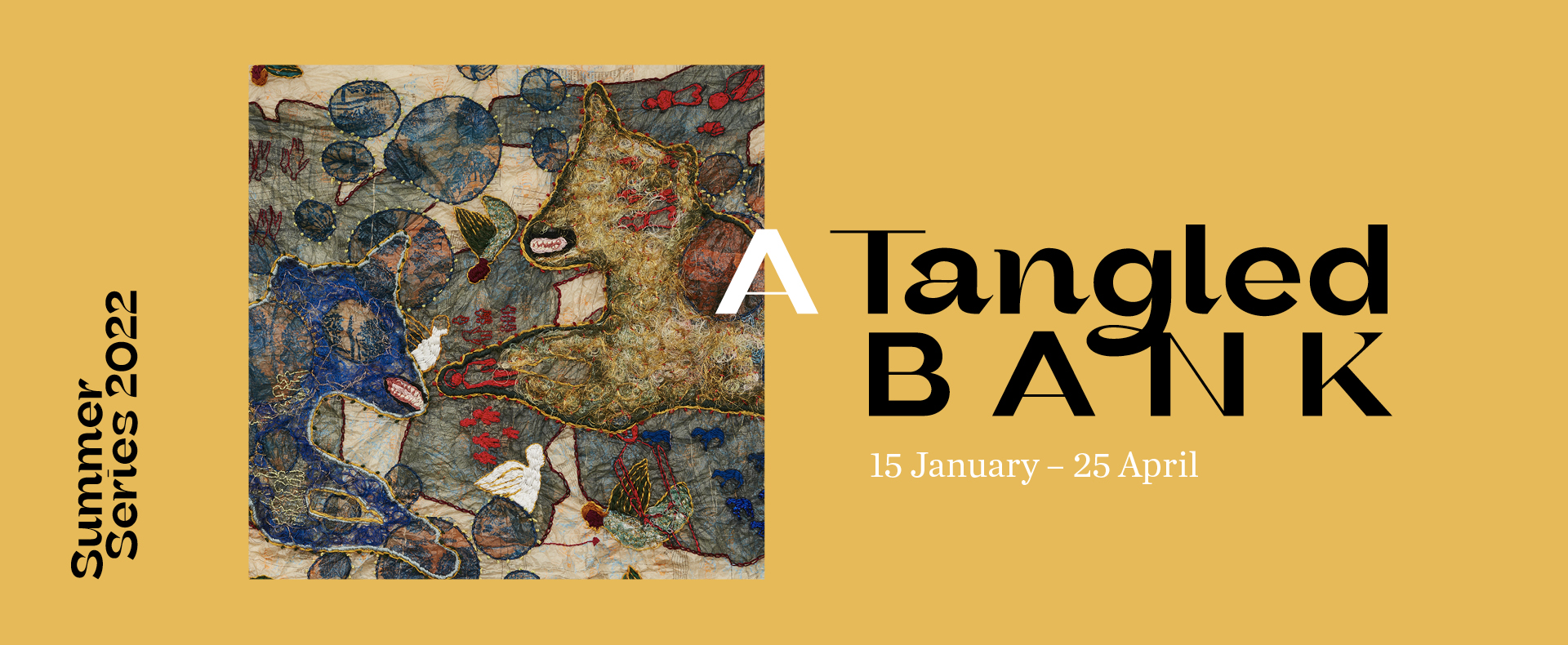 Photo
/ Mehwish Iqbal, Oscillation of Memorabilia, 2018, Silk Screen, Etching, Collagraph, Embroidery. Courtesy the Artist
A Tangled Bank
This exhibition is extended until 25 April!
Lorraine Connelly-Northey, Léuli Eshrāghi, Mehwish Iqbal, Jumaadi, Shivanjani Lal, Sera Waters, Sairi Yoshizawa
During the recent Sydney floods the eastern bank of the Nepean River broke, causing an unfamiliar comingling of rain, river, and land. As yet another example of extreme weather events in Australia, the flood was a timely reminder of the immediate, and intrinsic relationship between human beings and our natural and political environments.
Against this backdrop, A Tangled Bank brings together contemporary artists who draw on organic materials – often found, recycled, or repurposed – to create works that act as vessels to hold and transfer corporeal, ecological, and cultural bodies of knowledge. The exhibition considers the inherent qualities of the materials utilised by the artists, as a conduit to access complex and often overlooked narratives.
The artists included in A Tangled Bank engage with a diverse range of techniques, often using traditional techniques within a contemporary context, alluding to tangential experiences of environmental crises, histories of forced migration, and the displacement and dispossession of First Nations land.
Ultimately, it is these disparate experiences and narratives that come together, often in uncomfortable ways, to speak the entanglement of our shared history and contemporary climate. Our material world can operate as an archive, but what happens when these individual threads form a tangled bank? One that heaves with the strain of our past, yet also offers a chance for us to bind ourselves, and to mend.
Artists
Lorraine Connelly-Northey
Sera Waters
Shivanjani Lal
Léuli Eshrāghi
Mehwish Iqbal
Jumaadi
Sairi Yoshizawa
Curator Toby Chapman
Assistant Curator Christine Smalley
This exhibition is free.
15 January – 25 April 2022
Please click here to check the Gallery's Open Hours ahead of your visit
Click on the images below to view photos from the exhibition
Lorraine Connelly-Northey
Lorraine Connelly-Northey's artistic practice is inherently influenced by her Indigenous and Western heritage. Using discarded, rusty materials, such as fencing wire and scrap corrugated iron, Connelly-Northey repurposes them into traditional cultural objects. The materials reference the impact of European settlement, land ownership, farming and industrialisation on Country. Using traditional coil weaving techniques, she juxtaposes the industrial with the organic, weaving a new narrative in the resulting dilly bags and coolamons.
Dr Sera Waters
Dr Sera Waters is an Adelaide based artist, arts writer and academic. She embraces the textile crafts of the past to examine both her ancestry and our future. Her works are framed in the Australian settler-colonial personal stories, particularly her own 'genealogical ghosts capes' which are woven with a fragile and threatened geological narrative.
Shivanjani Lal
Twice-removed Fijian-Indian-Australian artist and curator personally reflects on the relationship of movement and migration. She explores dislocation and seeks to account for memory, erasure, healing and the archive.
Léuli Eshrāghi
Léuli Eshrāghi is a Sāmoan/Persian/Cantonese interdisciplinary artist, writer, curator and researcher working between Australia and Canada. They engage with Indigenous futurities as haunted by ongoing militourist and missionary violences that once erased faʻafafine-faʻatane people from kinship and knowledge structures.
Mehwish Iqbal
Mehwish Iqbal works across painting, printmaking, textiles, ceramics, sculpture and installation art. Her work is veiled by her personal experiences of the social, cultural and political landscapes in both the country of her birth, Pakistan, and her home Australia.
Jumaadi
Jumaadi is a Sydney-based Indonesian artist. Working in mediums ranging from gouache on paper to intricate hand-tooled carving and painting on buffalo hide, he creates narratives that weave between Australia and Indonesia. Jumaadi is an arresting storyteller. His works reflect his dual existence between these neighbouring countries and tell historical, cultural, and political stories. Sprinkled in his works are images of animism and spirituality which offer a dreamlike quality.
Sairi Yoshizawa
Sairi Yoshizawa creates ethereal and breathtaking handwoven installations. Using traditional methods such as Ikat, along with knotting, twisting and weaving, every aspect of her work is intricately detailed. Using foraged matter, such as leaves, roots and herbs, Yoshizawa has organically dyed each fibre. Every aspect of this work is considered, a meditation and an act of love and connection to the natural world.
Her textile artworks depict abstract landscapes of our surroundings and what we unknowingly consume in everyday life, through the process of reconstructing materials and natural dyes. For Yoshizawa, the material becomes a 'being' that has absorbed the substances in our environment, and that can represent identity and a sense of belonging.
Yoshizawa's work reflects her interest in the eternal discovery of colours in local landscapes. Natural dye and kasuri-dyeing techniques reveal unpredictable colours and textures; it is like searching for and recording nuances of colours and patterns in the land. Her works mimic the layers of narratives in the simplistic repetitive yet meditative form.
Schools Bookings and Resources