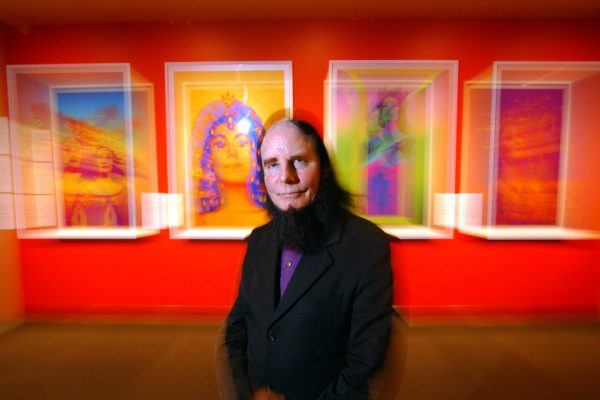 Penrith Regional Gallery & The Lewers Bequest would like to pay tribute to artist Vernon Treweeke who died 19 March 2015 in Sydney, aged 76. Penrith Regional Gallery was privileged to have worked with Vernon, with his unique approach to art celebrating creativity and encouraging a sense of wonder. Treweeke played a momentous role within the Sydney art scene as the father of psychedelic art.
Born in 1939, Treweeke grew up in Sydney before attended boarding school in Bathurst where he met and became close friends with Brett Whiteley. He studied painting, drawing and sculpture at the National Art School (1957 to 1959) before heading to London, via India and France, where he became involved in London's dynamic art scene along with the likes of Francis Bacon, David Hockney and Patrick Caulfield. During his time in London, Treweeke was exposed to a unique fusion of British, European and American styles of contemporary art that created the atmosphere that nurtured a range of artistic styles, including Pop, Colour-field, Hard-edge, Minimalism and Conceptual art. The early exposure to this array of styles continued to inform Treweeke's practice, which he layered with a particular psychedelic flavour.
Treweeke returned to Sydney in 1966 via America, bringing with him the energy of 1960s international art practice. Treweeke soon became a regular exhibitor at Central Street Gallery, the modernist art space founded by Tony McGillick and later, the important Sydney contemporary art space Gallery A. His work has been exhibited in many shows, including the Young Commonwealth Artists, touring Germany, France and England (1962) and the ground breaking exhibition The Field held at the National Gallery of Victoria (1968).
In more recent years Treweeke's practice featured in major exhibitions. Shows at Penrith Regional Gallery include a major retrospective of his works in Vernon Treweeke: The Secret Paintings (2003), surreal digital sequences in a solo show Vernon Treweeke: 3DHD (2011) and an exploration of the galaxy in the group show The Visitors: The Australian Response to UFOS and Aliens (2007-8). Four large-scale colour digital photographs of Dame Joan Sutherland, aptly titled Star Queen Series (2005), are included in the permanent collection of Penrith Regional Gallery & The Lewers Bequest.