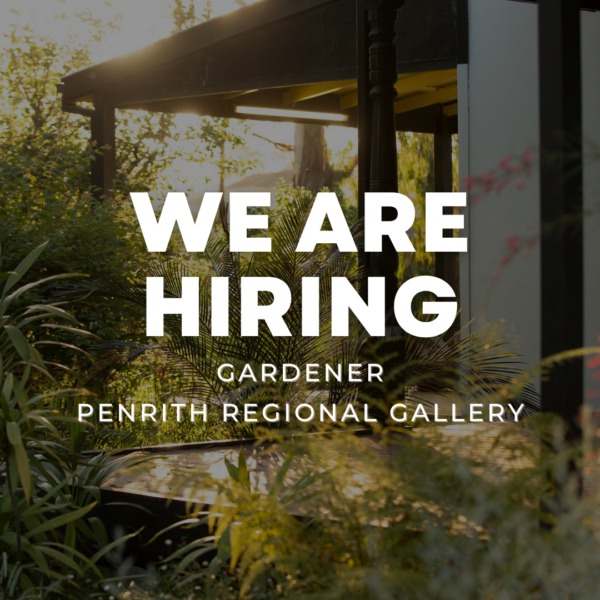 Part-time fixed contract for a 3-month long service leave cover
$29.00 per hour + 11% super
Penrith Regional Gallery, Home of The Lewers Bequest is calling for applications for a Gardener on a 3-month fixed term contract, basis of 3 – 4 days per week.
The Heritage Gardener manages and maintains the heritage gardens and site of the Penrith Regional Gallery, Home of The Lewers Bequest in accordance to its long established design, with close reference to the Conservation Management Plans as may be current, and an agreed annual maintenance schedule.
The Gardener supports the events, activities and programs of the Gallery as a critical component of the site's story as an artist's garden and sculpture park with a strong current creative overlay.
The Gardener will: 
undertake general labouring, maintenance, and cleaning work, such as grass cutting, hedging, planting and watering.
operate necessary plant and equipment such as lawn mowers, edgers, whipper-snippers and other small plant machinery.
ensure routine cleaning and maintenance of garden machinery.
engage with visitors and public attendees of the gardens by answering questions and possible garden tours, where required.
Essential Selection Criteria
Demonstrable experience of at least five years in a similar role
Current NSW Drivers licence
Good physical fitness and able to work outside in all weather
Desirable Selection Criteria

Qualifications in horticultural or land management disciplines
Please CLICK HERE for the position description
How to apply
Please email your CV and an application addressing the Essential Selection Criteria to Venue Manager, Mychelle Vanderburg, at gallery@penrith.city
For more information, please email Venue Manager, Mychelle Vanderburg, at gallery@penrith.city
Applications close: Friday 13 October 2023