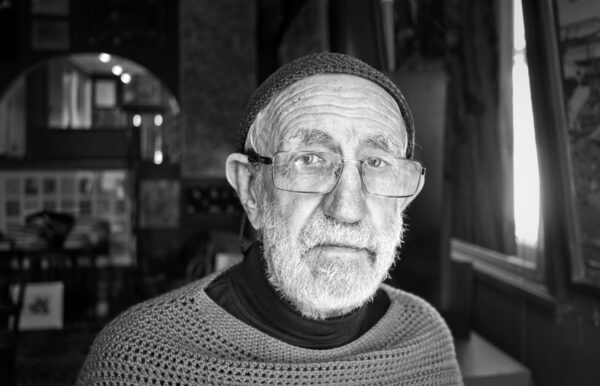 [photo: Frank Watters, 2014; Jon Lewis photographer]
We are saddened to hear of the passing away of Frank Watters, OAM, who died peacefully in his sleep on 21 May 2020.
Frank was an important Sydney gallerist, who along with his partners Geoffrey and Alexandra Legge ran Watters Gallery between 1964 and 2018.
Frank was a regular visitor to the property that is now Penrith Regional Gallery, Home of The Lewers Bequest, particularly in the 50s when it was the home of artists Margo and Gerald Lewers.
Frank, when being interviewed for the Doyennes Oral History Project in 2004, described Margo Lewers as one of the most marvellous people he had ever encountered. Arriving in Sydney as a young, shy fellow from Muswellbrook in country NSW in the 50s, he met Margo through shared acquaintances. Reflecting on those early days in Sydney, he recalled time spent at the Lewers Emu Plains family property as one of the greatest things that ever happened to him. Margo was always on the lookout for people to help in her garden, and as Frank was already keenly interested in the arts and a passionate gardener, they soon became firm friends. Frank spent days working on the front veranda of the farmhouse in Emu Plains, working on the mosaic that Margo created for The Rex Hotel In Canberra. He remembers being freezing cold and wearing two pairs of trousers to try and stay warm. He recounts that he couldn't wear gloves because he couldn't feel things properly, we had pincers to cut the tiles and I kept missing and chopping my thumb.  He colourfully describes the final mosaic as being covered in his blood and yet he also recounts that time working with Margo on the mosaic as a truly great experience. Margo was so particular; it was extraordinary to work with her as she held such passionate convictions about how things should be – she just couldn't endure things being a bit shoddy or second rate. Frank saw Margo's commitment to excellence as a great lesson in life.
In the Doyennes Oral History Project, Frank describes himself as growing up in a working-class family and leaving school when he was 15 and ending up working in the coal mine for 8 years, not hewing in the face but spending most of the time underground. I just don't know how, but even as a child, I had absolute confidence about where my life would end up – I knew it would be somewhere in the arts but not precisely what.
The first painting Frank ever bought was by Weaver Hawkins at an art exhibition in Muswellbrook. The painting was 20 guineas, Frank had 23 pounds in the bank and so bought it. He reflected that it is very hard to image now, the poverty that people lived in. But regardless of that, he just saved up money and bought another painting. After eventually moving to Sydney and getting a job at a factory he began to 'collect' art in earnest. He started working with the art dealer Barry Stern who he saw as an absolute genius. After his experiences working with Barry, he developed the confidence to start his own gallery with partners Geoffrey and Alexandra Legge.
Margo Lewers was the first artist to have an exhibition at the newly opened Watters Gallery in 1964, in Liverpool Street Darlinghurst. Frank recounted that it was terrific getting someone like Margo to have that first exhibition as she provided the mailing list which was the basis for the whole gallery's success. That initial introduction included so many people from the art world including people like Mervyn Horton (who re-established Art in Australia), Daniel Thomas (curator), Patrick White and Manoly (writer and partner). Frank also recounts that it wasn't just the mailing list that was instrumental to the success of that first exhibition at Watters and its ongoing success, but also Margo's ability to motivate people.
When Margo commanded one to attend – God, people just turned up. I remember at one point there was a little convoy of cars all heading out to the Emu Plains full of people who didn't dare say no. It was always wonderful out there. You would see people just wandering around the property absolutely awestruck by the garden.
On reflecting about when Margo and Gerald left the city to live at Emu Plains, and whether Margo missed the city life, Frank had this to say: Margo very sensibly just had the feeling that the centre of the world was where she was – she was very much that sort of person and she just made it all work and she was astonishing with communicating with people on the telephone and she would be sitting up in bed keeping in touch with people everywhere. 
He also talked about That real sense of art being a way to connect yourself to international ideas and overcoming the tyranny of distance, (between Australia, and the rest of the world) – that is how I saw it.  Not so much a denial of being in Australia, because they were here and they were engaged politically and socially but it was this idea to not simply think of yourself as Australian but to have this connection to all the ideas in the ferment …
Words that seem as meaningful today as when Frank first said them.
An insightful and generous man – who will be missed.
Vale Frank Watters 1934 – 2020
All italics are quotes from Frank's Interview for The Doyennes Oral History Project (2004).