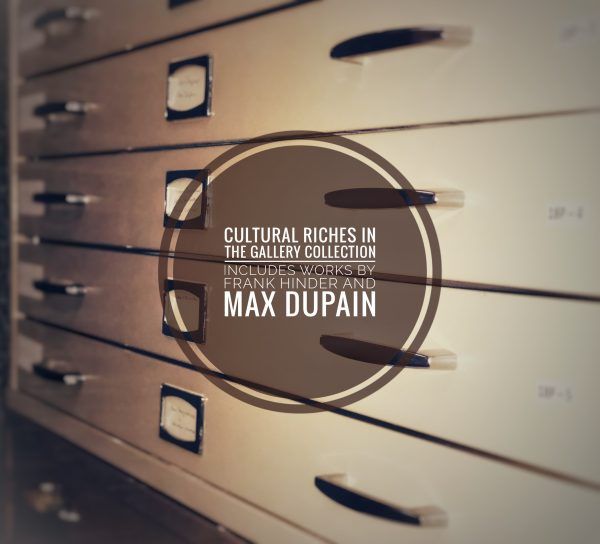 Media Release
October 2017
If you've been to the Penrith Regional Gallery & The Lewers Bequest, you'll most likely know the site used to be the family home of Modernist artists Margo and Gerald Lewers and the sculptures, garden and artworks are all part of the fabulous package on offer to interested visitors. More importantly, the Gallery's collection of art has been independently assessed as a significant cultural piece of Australia's mid-century modern art and design heritage.
The Gallery is also celebrating the completion of a project funded by the National Library of Australia in Canberra designed to preserve nationally significant heritage collections within, and for, the local community. The Community Heritage Grant provided late last year, has enabled a professional conservator to work on site over several months assessing the growing artwork collection and evaluating the changing preservations needs. Being awarded the grant is important as it provides additional funds to support the Gallery in preserving the noteworthy collection and keeping it accessible. Ms Anne-Marie Schwirtlich, AM, Director-General of the National Library of Australia at the time of the award, stated that the Community Heritage Grant program, "is all about working together to help spread the message that if we don't preserve our history now, it could be lost forever."
At the forefront of modernist art and research, the Gallery established the Modernist Research Centre to support ongoing research and to showcase the Collection through scheduled exhibitions, touring exhibitions, pubic programs and publications. Collection Manager Dr Shirley Daborn says, The Gallery's collection of art and assorted ephemera represents the social and cultural values of a particular time in Australia's history when many looked towards the arts as integral to notions of societal progress. As the current custodians of this wonderful asset we are committed to putting into place measures that will ensure the collection remains a viable resource for future generations to enjoy and re-examine."
A leader in modernist research and art, the Gallery brings the collection to the general public through exhibitions, touring exhibitions, pubic programs and publications. The current exhibition Emu Island – Modernism in Place, gives you a chance to see some of these works including those of Margo and Gerald Lewers, Frank and Margel Hinder, Judy Cassab, John Olsen, Tony Tuckson, Carl Plate and Robert Klippel.