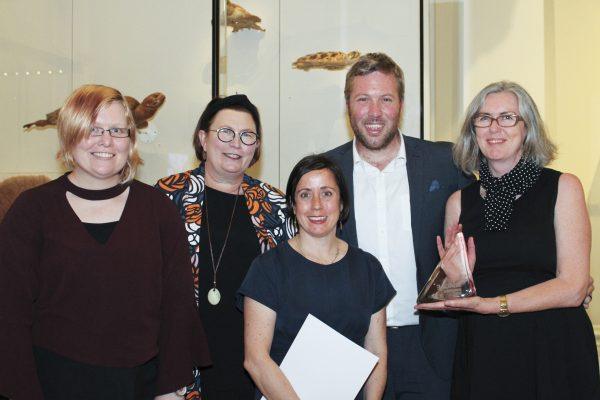 Museums & Galleries of NSW have announced the winners of the 2017 IMAGinE awards.
Penrith Regional Gallery & The Lewers Bequest and Museum of Applied Arts and Sciences won the award for Gravity (and Wonder), in the Capacity Building, Capital & Sustainability Programs category.
Gravity (and Wonder) included an exhibition, artists and scientist residencies and a range of public programs including astronomy, workshops and a symposium focusing on art and science.
The partnership celebrated curatorial excellence throughout the exhibition and increased staff capacity by providing professional development opportunities for each organisation. It also increased equity for Western Sydney and regional audiences by providing access to a state institution and engaged these new audiences by responding to regional needs through the prism of STEAM.
Significant innovations resulting from this project include developing institutional working relationships and enhancing the profile and esteem of both organisations. The residency program paired artists with scientists from Western Sydney University (WSU) to develop new research practice and artworks for a resulting exhibition. These innovations strengthened professional working relationships with WSU and promoted the Gallery as a significant community resource in arts and science education. Media coverage introduced new audiences and the Museum increased its capacity to present and exhibit in the Western Sydney regions.The IMAGinE awards promote and strengthen the NSW museum and gallery sector. They honour best practice education programs, outreach projects, exhibitions, collection management projects and the achievements of individuals.
Recognising innovation and excellence in 500 museums, galleries and Aboriginal cultural centres across NSW, the IMAGinE awards acknowledge the outstanding achievements of over 8,000 paid and volunteer workers in fostering richer local communities and their contribution to the extraordinary diversity within the NSW museum and gallery sector.
With 76 nominations, this year's winners represent the best of regional and metropolitan NSW visual arts and cultural heritage experiences. These awards offer a unique opportunity for museums and galleries to promote their achievements and raise their profile within the community.
A large number attended the awards night demonstrating the awards' continued popularity and to pay respect to the people who work in museums and galleries across NSW.