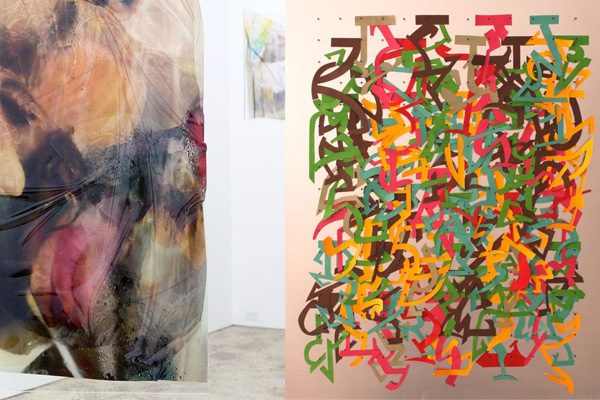 Penrith Performing and Visual Arts is delighted to welcome two new artists for Penrith Regional Gallery's Summer Studio Residency, an initiative committed to supporting the professional development of artists within and beyond our region. This year, the gallery will host artists Miguel Olmo and Marian Tubbs from 10 December – 20 January 2019.
Marian Tubbs' installations and digital works look critically at where society places value. Natural and 'artificial' imagery is captured in fluid and static collage, with abstract narratives of trash the key to the work.
In 2019 Marian plans an ambitious sculptural installation using augmented reality and gaming applications. The new work will playfully take apart the ways standard rendering applications produce chromed or glistening surfaces, presenting how the 'virtual' can be anything one desires.
Miguel Olmo's works are eclectic and diverse; ranging across sculpture, installation, video, sound, and 2D work with a strong focus on sustainability, using materials such as reclaimed wood and papier-mache. Drawing from his Spanish heritage he explores time, memory and ephemerality through works made up of a series presented as installations.
In 2019, Miguel will work on further development of an installation and performance titled 'Cocoon,' incorporating elements of spoken-word, soundscape, sculpture and music to be presented as part of the 2019 Sydney Sacred Music Festival.
Undertaking a residency at Penrith Regional Gallery gives artists the opportunity to think, create, and story-board their work in a generous, professionally equipped modern studio space with all relevant facilities. Resident artists are also presented with invaluable exposure to Penrith Regional Gallery's community of multi-disciplinary curators, artists, academics and technicians, as well as access to the Gallery's permanent collection of Australian modern and contemporary art.
Marian Tubbs and Miguel Olmo will undertake their residencies at Penrith Regional Gallery in the Sonia Farley Studios from Monday 10 December 2018 – 20 January 2019.
Image:
Marian Tubbs, Contemporary Monsters, 2016, installation view, Minerva Courtesy of the artist
Miguel Olmo, (un)Solicited, 2016, advertising catalogues, enamel paints, pins on foam core Courtesy of the artist