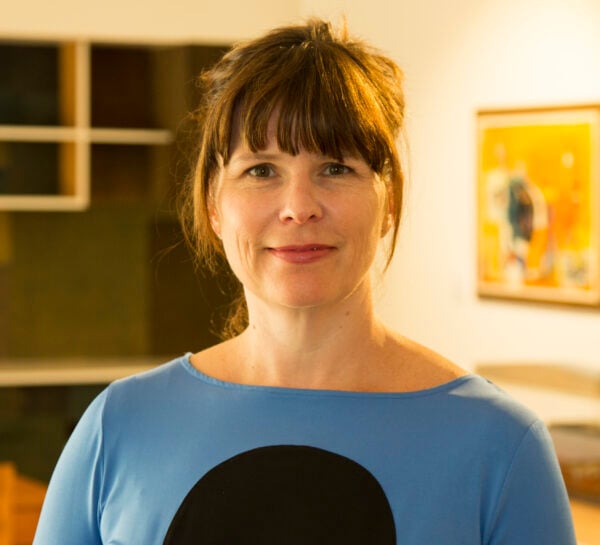 Penrith Performing & Visual Arts is pleased to announce Krissie Scudds as its new CEO.
Krissie comes to the role with over 30 years' experience across the Australian creative industries as a strategic director, with specialisations in leadership, audience research, communications, digital strategy, marketing and partnership development. As Marketing Director for PP&VA, she has spent the past eight years building the organisation's brand, researching the audience and creating connections, both externally and within the organisation – as well as running a team managing the day-to-day marketing operations across The Joan, Penrith Regional Gallery, Penrith Conservatorium and Q Theatre.
She has a long-held passion for helping arts organisations and individual artists to deepen engagement with their audiences. Her previous roles include General Manager of the Qantas Spirit of Youth Awards, General Manager of The Program, a national arts and culture website, General Manager of noise — a global creative community, Principal of Krissie Scudds & Associates, working with clients including Mixed Industry, ICE (now ACE), Culture at Work, Arts Access Australia, Opera Australia, College of Fine Arts and the Dictionary of Sydney, and over a decade in various roles at the Australia Council.
PP&VA outgoing CEO of nearly a decade, Hania Radvan welcomed her saying: 'I know Krissie to be an inspirational leader, and an extraordinarily skilled and passionate arts manager who has shown great dedication to this region as my colleague here at PP&VA.  I am delighted that the company is in such safe and skillful hands.'
PP&VA Board Chairperson Alison McLaren said: 'I am thrilled that Krissie has accepted the role as the new CEO of PP&VA. She brings with her energy and enthusiasm which combined with her experience will deliver great outcomes for the Arts in Penrith. The Board and I look forward to working with her to implement her exciting vision for a vibrant, diverse and inclusive arts offering. I also congratulate Hania on her outstanding contribution over the last ten years and wish her well with her next endeavour. She is leaving us in a strong position, ready to tackle the challenges of the post-covid world.'
A Blue Mountains local for over 20 years, with strong connections to Western Sydney, Krissie looks forward to playing a stronger role in shaping and strengthening the region's creative ecology.
Krissie said: 'The opportunity to lead an organisation as authentic and dynamic as Penrith Performing & Visual Arts is something I am both wildly excited and deeply passionate about. Building and sharing the transformative power of the arts, connecting with audiences, artists and communities; and creating pathways for lifelong learning, are all fundamental in my long term vision for a creative and flourishing Western Sydney.