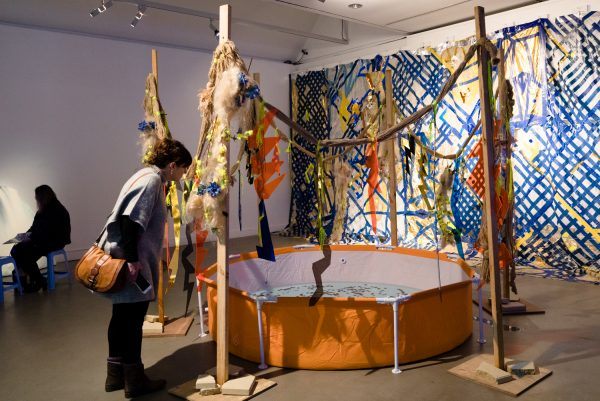 A Series about Making Art Work
Have you ever wondered how one goes about installing an artwork? Thought about how an intricately put-together crystal mobile came to be suspended from the roof? How that oversized painting and frame managed to fit through the door? Where that entirely new wall came from?
There is a dedicated installation plan for every single artwork that appears in a gallery, and installing all the artworks for Justene Williams: The Curtain Breathed Deeply was no easy feat!
The Curtain Breathed Deeply is comprised of 10 artworks, consisting of various installation components and videos. Works are grouped into 5 rooms: the Garage Room, Green Room, Blue Room, White Room and Red Room.
Each of the 'rooms' required a detailed and very specific list of what staff are to source for the exhibition; including a functioning car battery, a second-hand BBQ painted white, a bar fridge, an assortment of working CRT TV's and two couches required to be covered with over 6 layers of coloured paint. Other requirements included the right length of hanging rope, determining WHS levels for water in the Blue Room pool and careful consideration surrounding the presentation of adult and explicit material.
Undoubtedly, the exhibition's main attraction was also the main source of drama for installers. The sheer size of the Curtain, weighing in at 100 kilos and intricately constructed meant staff didn't want to move the fragile work more than once for its own safety: installation had to be quick, precise and incredibly careful. It took the removal of a false wall, timing the install around a lighting upgrade, a mechanised stock picker, the installation of accurately spaced hooks, a wooden beam, six pairs of gloves and six installers working on a temporary rigging system to raise it from the ground.. Hours of careful planning to gently and surely lift this heavy 'breathing' curtain into place.
There is much more than meets the eye when it comes to the installation of an exhibition. The many components involved and incredibly specific instructions can often remain unseen, unnoticed and unspoken; but the reality is that each artwork is installed in a gallery with the utmost consideration, care and devotion to detail.
If you haven't had a chance to get down to Penrith Regional Gallery to check out The Curtain Breathed Deeply; there are only three weeks until the exhibition closes! Other works are the incredible, ethereal paintings from Samuel Quinteros and a collection of Leonora Howlett's stunningly beautiful and coloured artworks in The Head and The Heart; all currently showing at the Penrith Regional Gallery until 11 Nov. Don't miss out!
Image: Justene Williams, Assisted performance relics, 2014 Above ground pool, assorted coins, wood, string, tape, cardboard, various materials. Courtesy of that artist and Sarah Cottier Gallery. Photography by silversalt