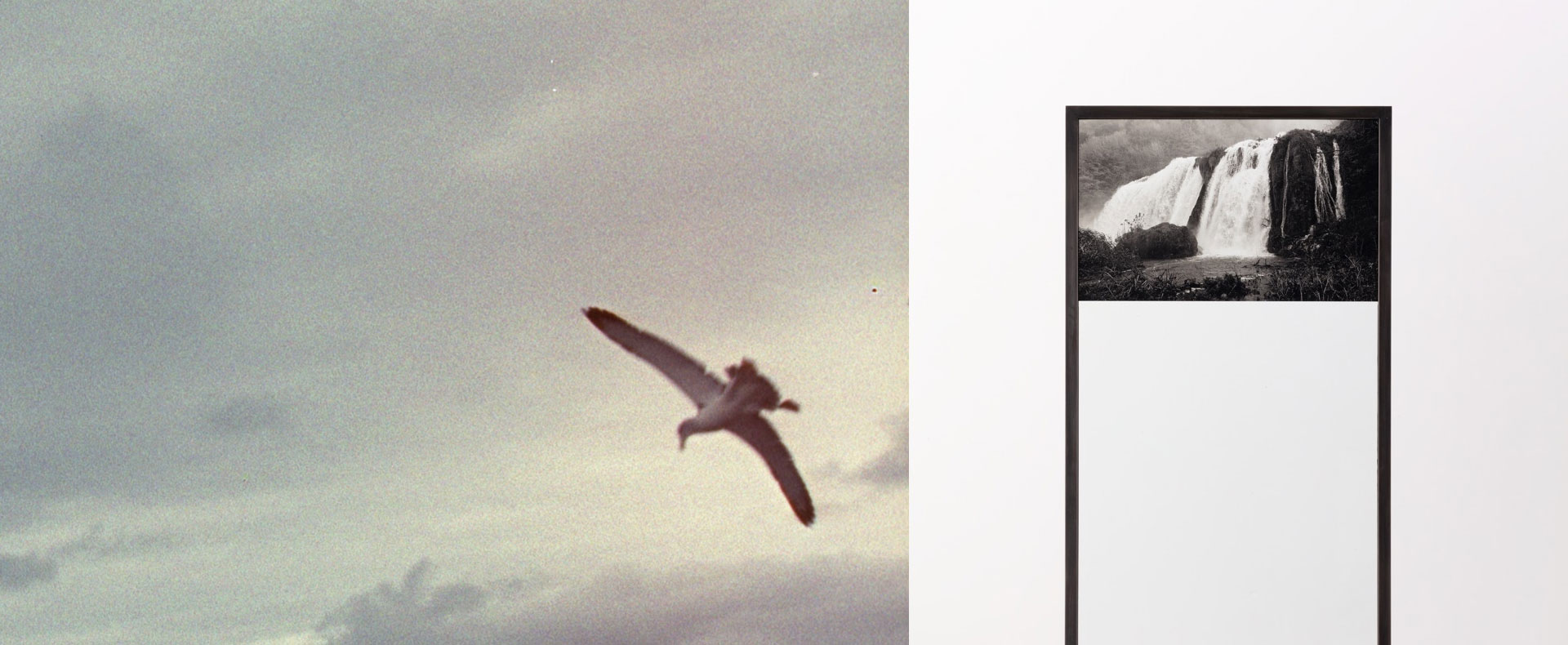 Photo
/ Right: Todd McMillan, Albatross  (film still), 2012, 16mm film loop, 15:40. Courtesy the artist and Sarah Cottier Gallery.
Left: Sarah Mosca, Fall, 2021, pigment print on glass, steel, 160 x 75 cm. Courtesy the artist and Sarah Cottier Gallery.
Sunrise, Sunset
Todd McMillan and Sarah Mosca
Blue Mountain artists, Todd McMilllan and Sarah Mosca respond to a literary text written by Italo Calvino, Invisible Cities. It is a story about an ageing emperor seeking to learn of the cities in his vast kingdom. The tales are told from the accounts of a travelling merchant. It is a conversation between two people. Stories of whimsy and melancholy. Yet it is a travelogue to places that do not exist. The text acts an as anchor point for this collaborative project, not so much  a description of something or somewhere but more a recollection that is hazy at the edges, shifting in changing light. This exhibition is about sharing tales, re-telling stories, a call and response.
Artists
Todd McMillan
Sarah Mosca
Curator Toby Chapman
This exhibition is free. We invite patrons to support us through our donation portal to help us ensure the creative heart of Western Sydney keeps beating. Click here to donate.
---
AUDIENCE INFORMATION

General Public: This exhibition is suitable for all ages
Schools: Suitable for Preschool – Year 12 (Early Stage 1 – Stage 6)
SCHOOL EXCURSIONS
A fantastic opportunity for visual arts and photography students and enthusiasts to analyse how to convey emotions and stories, whilst responding to texts through the use of multi-media. Please see the 'Schools Bookings and Resources' section below, for more information and to book.
3 May – 15 August 2022
Please click here to check the Gallery's Open Hours ahead of your visit
Schools Bookings and Resources
Key Information and How to Book
School Excursions
Sunrise, Sunset runs from 3 May – 15 August 2022 and is suitable for Preschool – Year 12 (Early Stage 1 – Stage 6). Please click here to find out about our school visit options designed to enhance your students' experience at the Gallery.
Schools Booking Form
To book an excursion to this exhibition for your school, please click here and complete our Schools Booking Form.
More Information
Click here to visit our 'Information for School Groups' page to download a copy of our current Risk Assessment and find out more about our venue, getting here, accessibility, education resources and the booking process.
Enquiries
To discuss schools bookings further, please contact Reception on 02 4735 1100 or gallery@penrith.city

Resources
Curriculum Links
Stay Tuned – The NSW State Curriculum Links for Sunrise, Sunset will be available closer to the exhibition
---
GENERAL RESOURCES
Risk Assessment
Click here to download the Word version
Click here to download the PDF version
A Handy Guide to Attending the Gallery
Attending the Gallery is a remarkable and mesmerising experience for all ages. For some of your students, an excursion to Penrith Regional Gallery may be their first time seeing an art exhibition. To ensure you have a positive and memorable time, we have put together a 'Handy Guide' of tips to discuss with your students prior to attending the Gallery.
Click here to download a Word version of the Guide
Click here to download a PDF version of the Guide