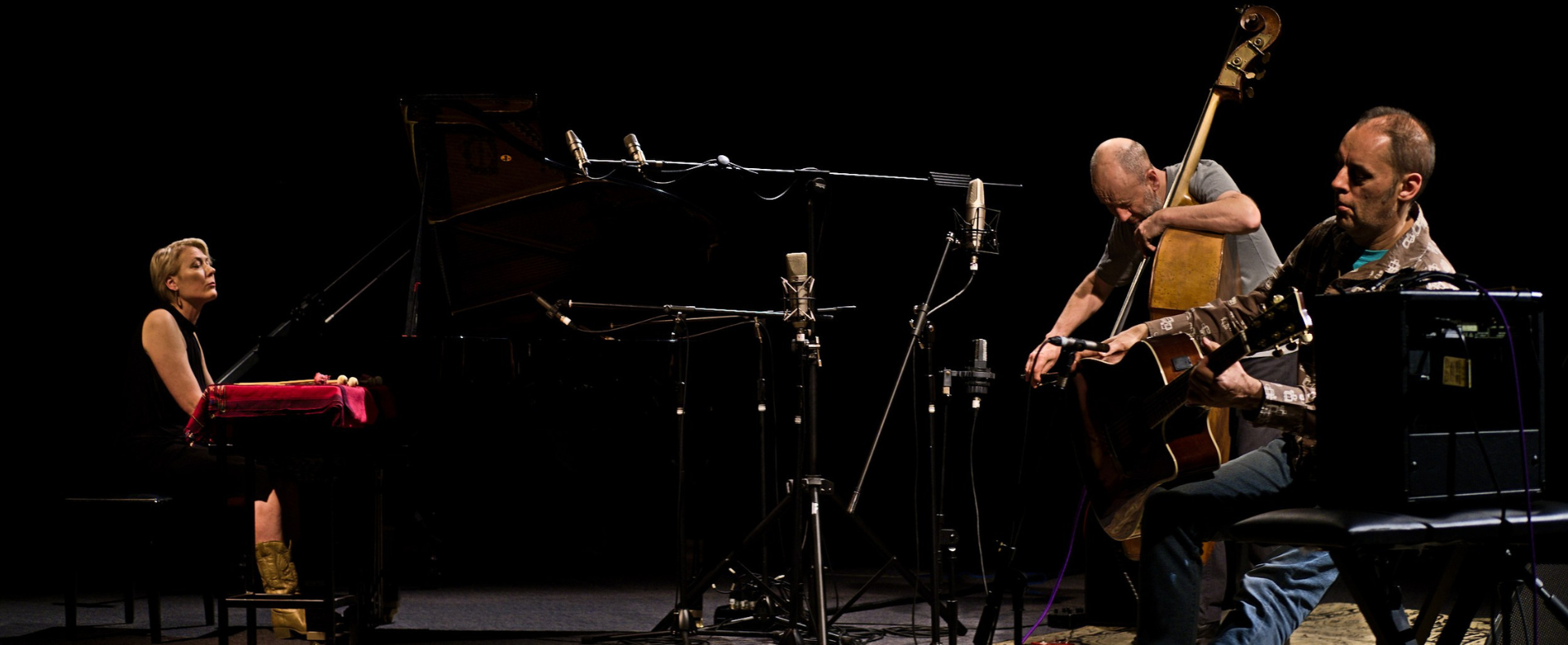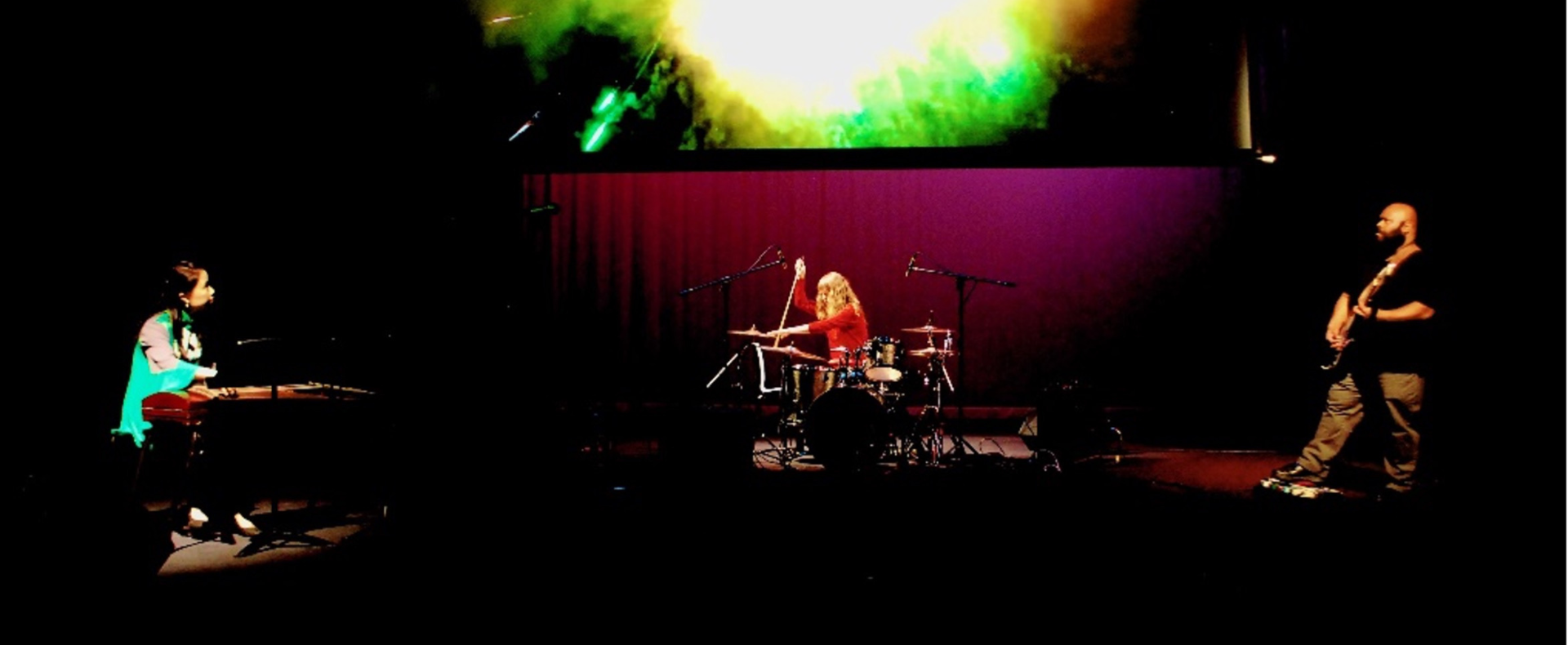 Simmer: W.E.S.T. & Tabua-Harrison
New Movements in Music and Art
Simmer is an evening program of experimental music and art at Penrith Regional Gallery this Summer. Rich with sensorial encounters, Simmer awakens the senses as the sun sets over the gardens and galleries at Emu Plains. Simmer includes a program of music and sound art, curated by acclaimed Blue Mountains composer Monica Brooks, and a series of workshops facilitated by guest artists. CLICK HERE to view the full Simmer program.
Doors open at 6pm, with performances starting at 7pm.
Food and drinks available for purchase through Cafe at Lewers.
ABOUT THE ARTISTS
Wilcox, Encarnacao, Swanton Trio (W.E.S.T.) comprises three composer-performers individually renowned for their work in jazz, improvisation, indie pop, art music and soundtracks: Felicity Wilcox (piano), John Encarnacao (guitar) and Lloyd Swanton (bass). W.E.S.T. improvise using their instruments in both conventional and non-conventional ways. The integration of everyday objects and experimental techniques fuses with an innate musicality and attention to timbral, harmonic and rhythmic nuance that results in pieces that can be as beautiful as they are surprising. W.E.S.T. debuted in 2018 at 100clicks West in the Blue Mountains and have since played at iconic Sydney jazz venues such as Foundry 616 and Johnston St Jazz.
Felicity Wilcox makes music that is performed and broadcast in Australia and internationally. She has composed the soundtracks for over 60 screen productions, for which she has received 3 AFI/AACTA nominations and one ARIA nomination. She won Rubiks Collective's 2021 Pythia Prize, to compose Sound Fields – a Finalist in the 2023 Australian Art Music Awards (Work of the Year – chamber). Her album, Uncovered Ground (Move 2021) received two 5-star reviews, from Sydney Morning Herald and Fine Music, and her bass clarinet work, People of This Place was selected for ABC Classic's 'Women of Note' (2021). She lives on unceded Darug Country in the Blue Mountains.
John Encarnação is a musician and scholar based in Sydney, Australia. He is the author of Ed Kuepper's Honey Steel's Gold (2023, for 33 1/3 Oceania) and Punk Aesthetics and New Folk (2013). His albums of improvised music include Fantastique (1996, as St. Crustacean), Irrational (1999, with Jon Drummond as p), Giraffe Solos (2014), the soundtrack to the play Tinderbox (2018, with trio Espadrille) and Giraffe Quartet and Duets (2021). His most recent album as singer-songwriter is Wooden Box With Strings (2020, his fourth as Warmer). He lectures in music at Western Sydney University.
Lloyd Swanton is a bassist, composer, producer and bandleader whose credits include Bernie McGann, Vince Jones, The Dynamic Hepnotics, Sydney Symphony Orchestra, Paul Capsis, Archie Roach, Mara! and Hamed Sadeghi. He appears on over a hundred albums and leads The Catholics. Lloyd is best known for The Necks, with twenty-two albums released, and multiple awards, including the Richard Gill Award for Distinguished Services to Australian Music. The Necks have toured the world constantly since 1998. International credits include Nat Adderley, Jimmy Witherspoon, Barney Kessel, Sting, Sheila Jordan, Gary Bartz, Molly Ringwald, and (with The Necks) Brian Eno, Underworld, Swans, and the BBC Scottish Symphony. Producer credits include The Vampires with Lionel Loueke.
Tabua-Harrison is Joseph Tabua (guitar) and Holly Harrison (drum kit). Tabua-Harrison makes music that is both completely improvised and absolutely accessible, with the visceral energy of rock, metal and funk and the intricacy and surprise of contemporary art music. Their debut album Scout was released in 2018 and is available on Psychopyjama Records.
Guitarist Joseph Tabua brings a background in hard rock and funk styles to the project. His 2000s band Junto toured with the likes of COG and The Mark of Cain – but also his own compositional sense. Outside of Tabua-Harrison he pursues fusions of his rock history and Fijian heritage with minimalism and aleatoric music as part of his doctoral research. Recent highlights include performing solo at Volume Festival, Art Gallery of NSW, and the role of bassist for Tina Turner The Musical.
Drummer Holly Harrison is one of Australia's most in-demand composers; her music embraces stylistic juxtapositions and whimsical humour. Holly's music is frequently heard across Australia, Europe, and the US. She was composer in residence for the Tasmanian Symphony Orchestra from 2020-2022 and her works have been performed by all major Australian orchestras. Her collaborators include Eighth Blackbird, Australian Chamber Orchestra, Omega Ensemble, Australian String Quartet, Ensemble Offspring, and Tim Minchin.
This initiative is proudly supported by the NSW Government through the Culture Up Late Western Sydney program.