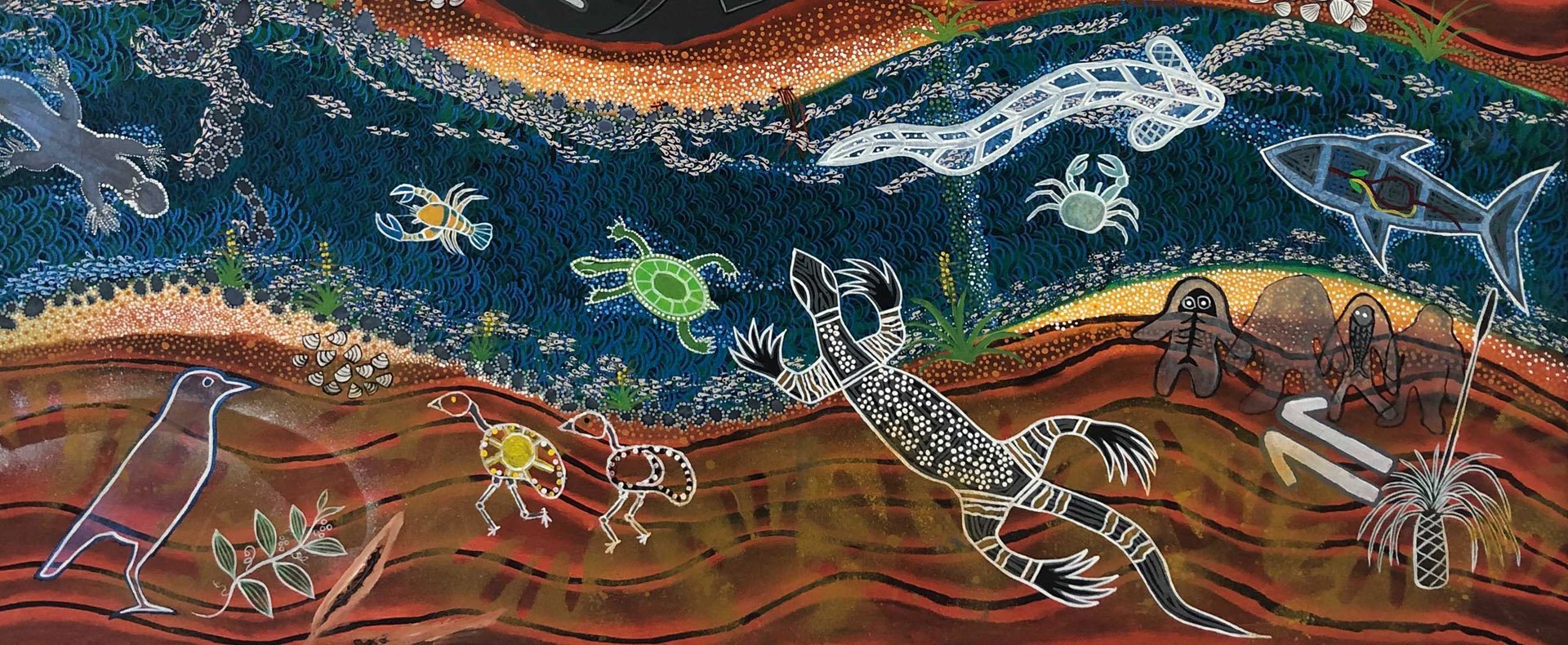 Photo
/ Collaborative work by Peter Williams, Leanne Kelly, Graham Murray, Jay Dent, Kerrie Miller, Michelle Locke, Denise Saunders, Julie -Ann Dolcol, Alison Barnes, Andrew Pyle, Brian Bell The River Cries - 'Dyarubbin Dreaming', detail, 2019, acrylic on canvas board, Courtesy of the artists
Painting Up Country
Opening 25 October
Featuring artists Aunty Beverly Ward (Darug), Uncle Ed Walker (Dharawal), Leanne Jones (Darug/Wiradjuri/N'Gyampaa), Andrew Pyle (Darug), Pip Smith (Wiradjuri), Kerry Miller (Nation Unknown), Brian Bell (Biripi), Peter Williams (N'Gyampaa), Denise Saunders (Darug), Michelle Locke (Darug), Graham Murray (Unknown), Paul Glass (Gamillaroi).
The Painting up Country project began in 2018 at Wentworth Falls College of TAFE and recently relocated to the larger Katoomba campus at the beginning of 2021.
Initially the aim of the program was to build a sense of belonging for Aboriginal people by engaging the local Aboriginal community in creating a welcoming place. Since its conception, the Painting up Country project has provided a creative hub for our Blue Mountains Aboriginal community and has enriched Blue Mountains TAFE colleges with its presence.
In this collection of works, under the facilitation of their teacher Dharug woman Leanne Tobin, students generously tell their stories through personal and collaborative artworks that have been completed over several years.
Students work at creating artworks that tell local stories of environment, flora and fauna but also works that reflect on their own personal and varied stories.
While the project allows students to develop new skills in using materials and equipment with many students painting for the first time, more importantly it provides an opportunity for many to reconnect with their own cultural backgrounds. The students come from many different Aboriginal nations within Australia but because of historic events of dispossession and disruption, many still seek to find their own family and cultural connections.
Through sharing their personal and collective stories, the group have developed a deeper understanding of cultural connection and responsibilities to Country which also brings with it a sense of peace and belonging.
Leanne Tobin 2021
Painting up Country is an initiative of TAFE NSW.
25 October – 19 November 2021
---
Painting Up Country Digital Catalogue
Find out more about Painting Up Country
View the catalogue
---