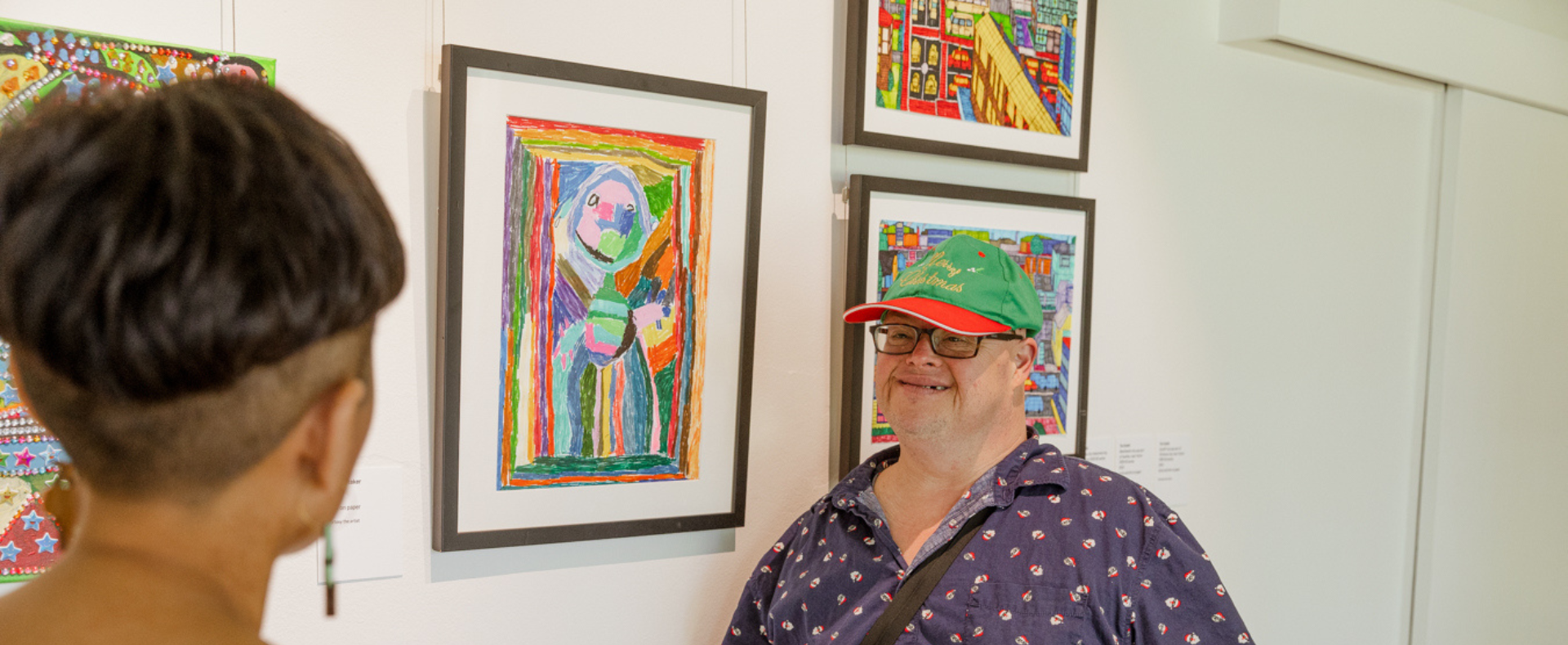 Photo
/ Chris Whiticker with his artwork from the exhibition, New Digs I No Boundaries, 2022, Penrith Regional Gallery. Photo by Maja Baska
No Boundaries Open Day
Celebrating International Day of People with Disability
Celebrate the talent of artists with disability through free activities, talks and performances on Open Day.
The day will include a pop-up exhibition with artworks from No Boundaries and All In art groups, drop in art workshops, live music and an interview with No Boundaries artists.
No Boundaries Art Group are a group of diversely abled artists in residence in the Gallery's Sonia Farley Studio, where they meet weekly to continue their decade-long vision to inspire people who live with disability to experience the power of creativity.
PROGRAM

Pop Up Exhibition
with artworks from No Boundaries Art Group and All In Art Group
Sonia Farley Studios All Day
Drop In Workshops
Watercolour with Lisa Sheldrick from No Boundaries
Sonia Farley Studios 10:30am – 1:30pm
All In Drawing
Main Gallery 10:30am – 1:30pm
Drama Games with The Joan Access Ensemble
Main Gallery 11:30am – 12pm 
Meet The Artist
Chat to No Boundaries artist Tim Smith as he makes art
Main Gallery 11am – 12:30pm

Live Music
Jerrah Patston
Café Courtyard 12:15pm
In Conversation: No Boundaries
No Boundaries' Kevin Finlayson & Lisa Sheldrick interviewed by Ebony Whiteman co-founder of We Are Studios
Main Gallery 2pm – 2:45pm
If you would like to attend this event, please RSVP to gallery@penrith.city