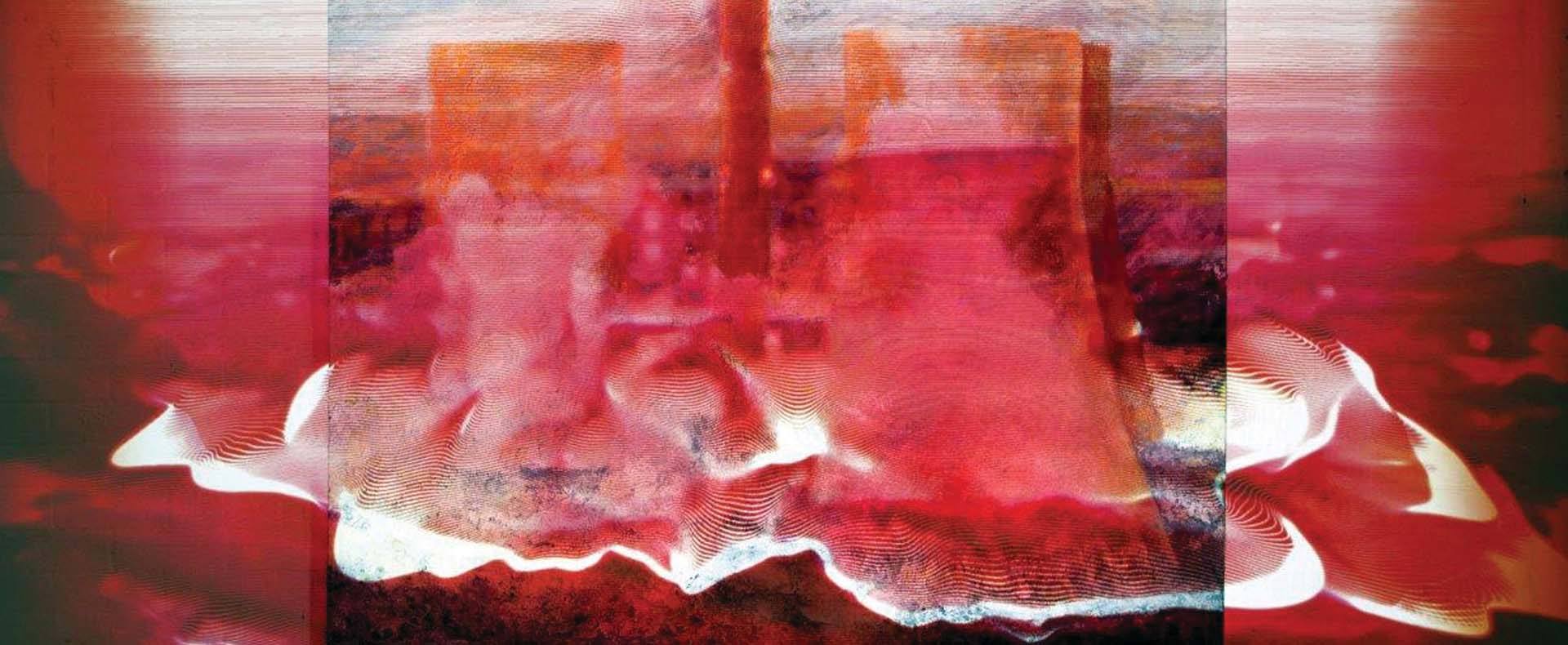 Photo
/ Mandy Martin and Alexander Boynes Blast 2015 Pigment, oil, linen and digital projection loop 180x320cms Collection of artist
Mandy Martin: Homeground
A reflection of Mandy Martin's 20 years in the Mandurama, Central Western NSW region
Summer Exhibition Suite 2016 / 2017
This twenty year survey exhibition concentrates on Mandy Martin's deep unease about the landscape in which we live. Environmental issues relating to water security, the impact of the region's coal-fired power stations and open cut mines are central concerns.
Each of the twenty works in the exhibition have been carefully selected, creating a suite of works that distil the essence of Martin's practice since she moved to Mandurama in the Central West in 1995. The survey includes examples of Martin's collaborative practice including paintings with the indigenous artist Trisha Carroll and two recent collaborative video projects with Alexander Boynes, artist and curator, that continue these investigations and follow Russian film maker Sergei Eisenstein's proposition that between Nature and Industry lies Art.
Martin is one of Australia's most important artists whose career spans over 40 years. She has had numerous exhibitions in Australia, Mexico and the USA and has exhibited in France, Germany, Japan, Taiwan and Italy. Her works are in many public and private collections in Australia including the National Gallery of Australia. In the USA she is represented in the Guggenheim Museum New York; the Los Angeles Museum of Contemporary Art, the Nevada Museum of Art, Reno and many private collections.
A Bathurst Regional Art Gallery touring exhibition curated by Sarah Gurich
I have painted well over 200 works in the Central West, so the 20 chosen for this exhibition reflect those 20 years in a landscape which has slowly opened up to me….however I have a deep unease about the landscape we live in. I see it becoming marginal as climate change accelerates. The issues of water I have addressed in many environmental art projects are tantamount.
Mandy Martin
---
Summer Exhibition Suite 2016 / 2017 Digital Catalogue
Find out more about the exhibition by viewing our catalogue
Download now