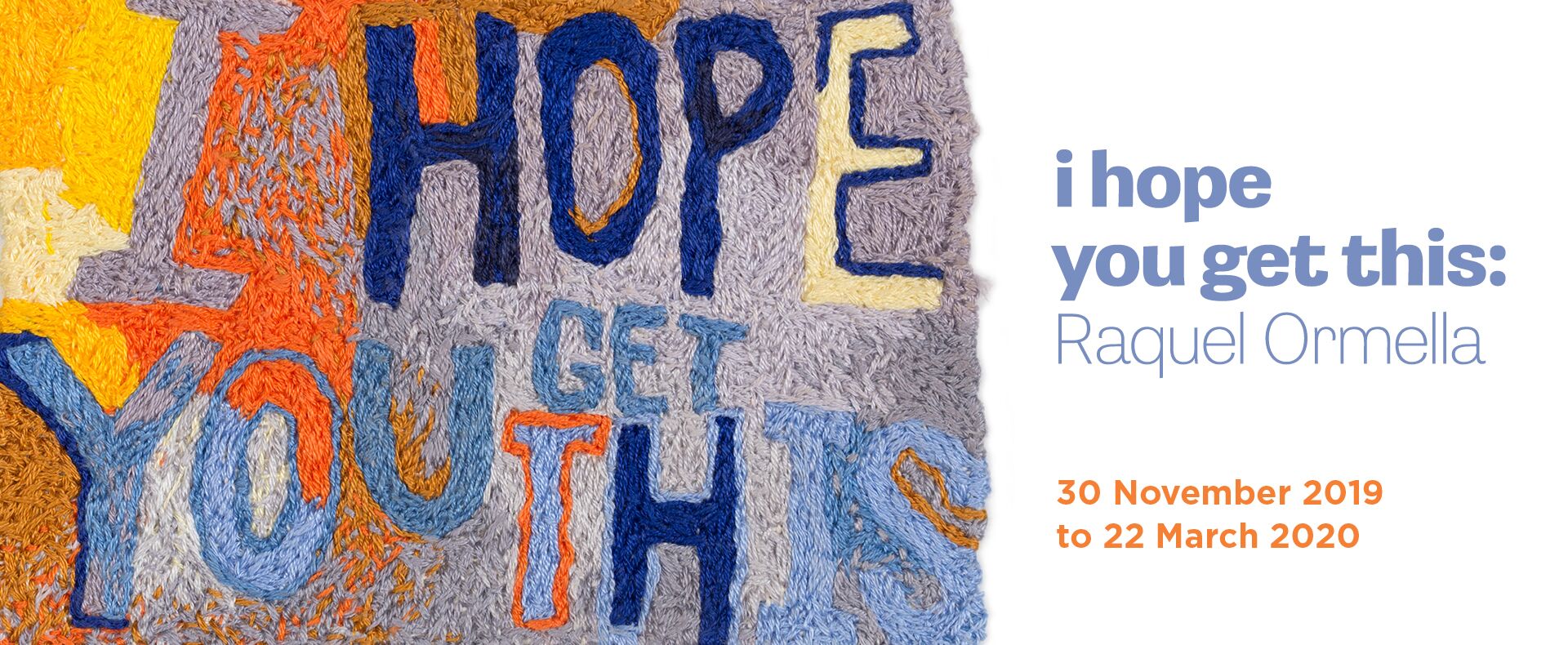 Photo
/ I hope you get this - Raquel Ormella 2018 silk and cotton embroidery thread on linen 8 x 10 cm Courtesy the artist and Milani Gallery, Brisbane© the artist Photo: David Paterson
I hope you get this: Raquel Ormella
I hope you get this: Raquel Ormella
A NETS Victoria and Shepparton Art Museum touring exhibition
I hope you get this: Raquel Ormella brings together a selection of new and recent work by one of Australia's leading contemporary artists. The exhibition employs a wide variety of media, including video, painting, installation, drawing, textile and zine production, revealing Ormella's experimental relationship with textiles and a playful exploration of semiotics, critical hallmarks of her sustained practice. I hope you get this: Raquel Ormella will be the artist's first major survey exhibition. Through her use of text and symbols, notably in her intricate embroidery work, Ormella invites audience members to engage with issues of nationalism, political activism and environmental intervention.
Ormella's works aim to stimulate contemplation, connection and engagement with issues of our times, without making her own position necessarily explicit. Very often, the materials she uses are things that we all have at home, or for the hoarders amongst us, in some of our cupboards. The title of this show, 'I hope you get this' refers not only to her own position within the works, but also to our reading of these various subjects. She invites visitors to engage, to reflect, and bring their own understanding and experiences to the show at the same time.
This project has been assisted by the Australian Government's Visions of Australia program and received development assistance from NETS Victoria's Exhibitions Development Fund, supported by the Victorian Government through Creative Victoria.
CLICK HERE TO READ THE REVIEW IN ART MONTHLY AUSTRALASIA