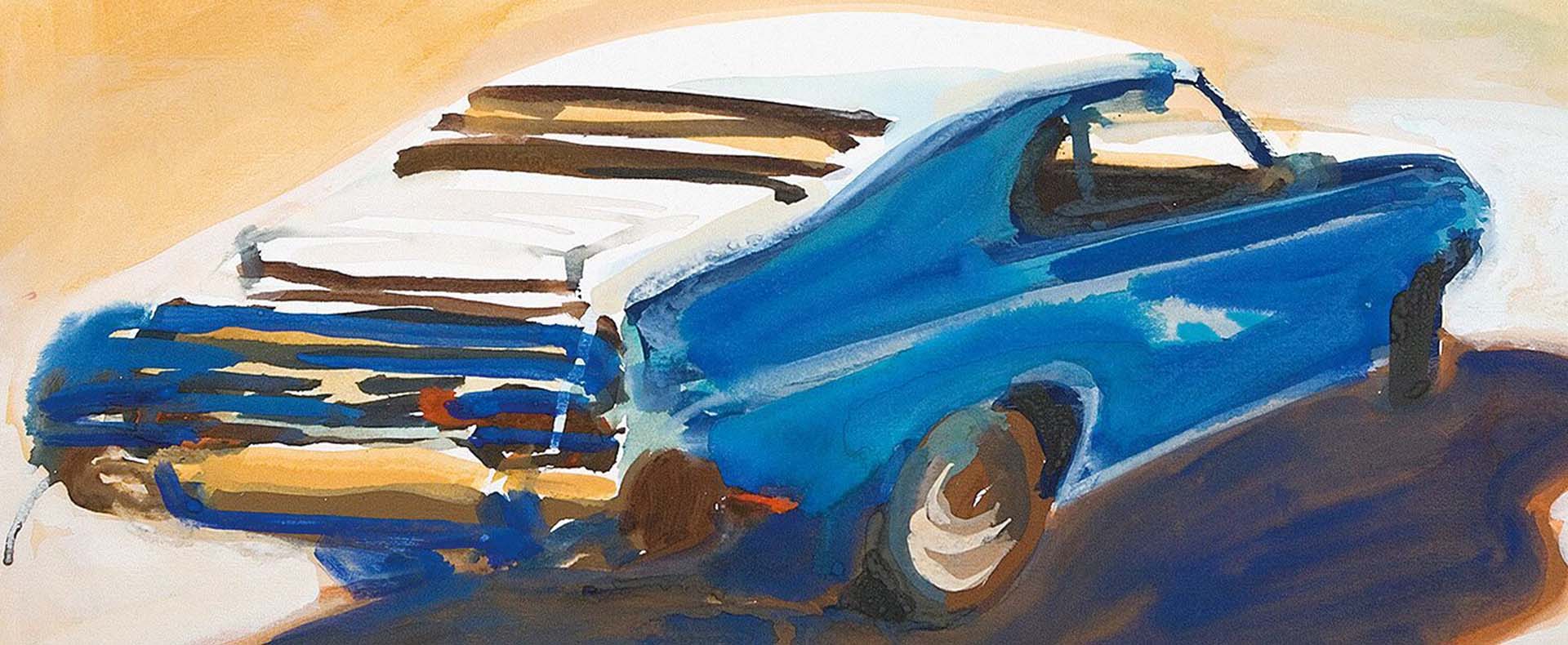 Photo
/ BEN QUILTY Hill End landscape #4 2005 gouache on paper. Collection of Bathurst Regional Art Gallery, gift of the artist through the Commonwealth Cultural Gifts Program. ©Ben Quilty
Hill End: Seven Decades
The exhibition traces seventy years of artistic response to the historic Australian goldmining township of Hill End, NSW.
Autumn Exhibition Suite 2017
In August 1947, artists Donald Friend and Russell Drysdale made a trip to explore to the former gold rush towns of Sofala and Hill End. Since then, the historically-charged landscape and remnant architecture of Hill End has continued to inspire artists to re-visit, re-imagine and re-interpret this iconic site.
Hill End: Seven Decades features paintings, drawings, new media, ceramics and photographs from Bathurst Regional Art Gallery's substantial 'The Artists of Hill End' permanent collection focus. The exhibition surveys historic and contemporary works by three generations of Australian artists.
A highlight of the Hill End collection are works from the late 1940s and 1950s, when Friend, Drysdale, and other Sydney-based artists such as Jean Bellette, Paul Haefliger and David Strachan regularly visited Hill End, captivated by its gold rush history, striking landscape, vernacular architecture and its isolation.
Hill End continued to hold appeal for a younger generation of Australian artists throughout the 1960s and 1970s, and in the 1990s the village became the site of one of the country's most enduring and important residency programs.
Since 1994, over 300 artists from a diverse range of disciplines have participated in the Hill End Artists in Residence Program, which is managed by Bathurst Regional Art Gallery. The village has also become home to a thriving community of artists including Lino Alvarez, John Firth-Smith, Luke Sciberras and Rosemary Valadon.
This exhibition gives audiences a glimpse into the national importance of Hill End as a site of sustained and ongoing artistic response, says Sarah Gurich, Curator, Bathurst Regional Art Gallery. Hill End: Seven Decades showcases the rich cultural archive that has developed over 70 years, and reflects the diversity and quality of art inspired by this intriguing historic town.
Hill End: Seven Decades is a Bathurst Regional Art Gallery exhibition curated by Sarah Gürich.
---
Autumn Exhibition Suite 2017 Digital Catalogue
Find out more about the exhibition by viewing our catalogue
Download now