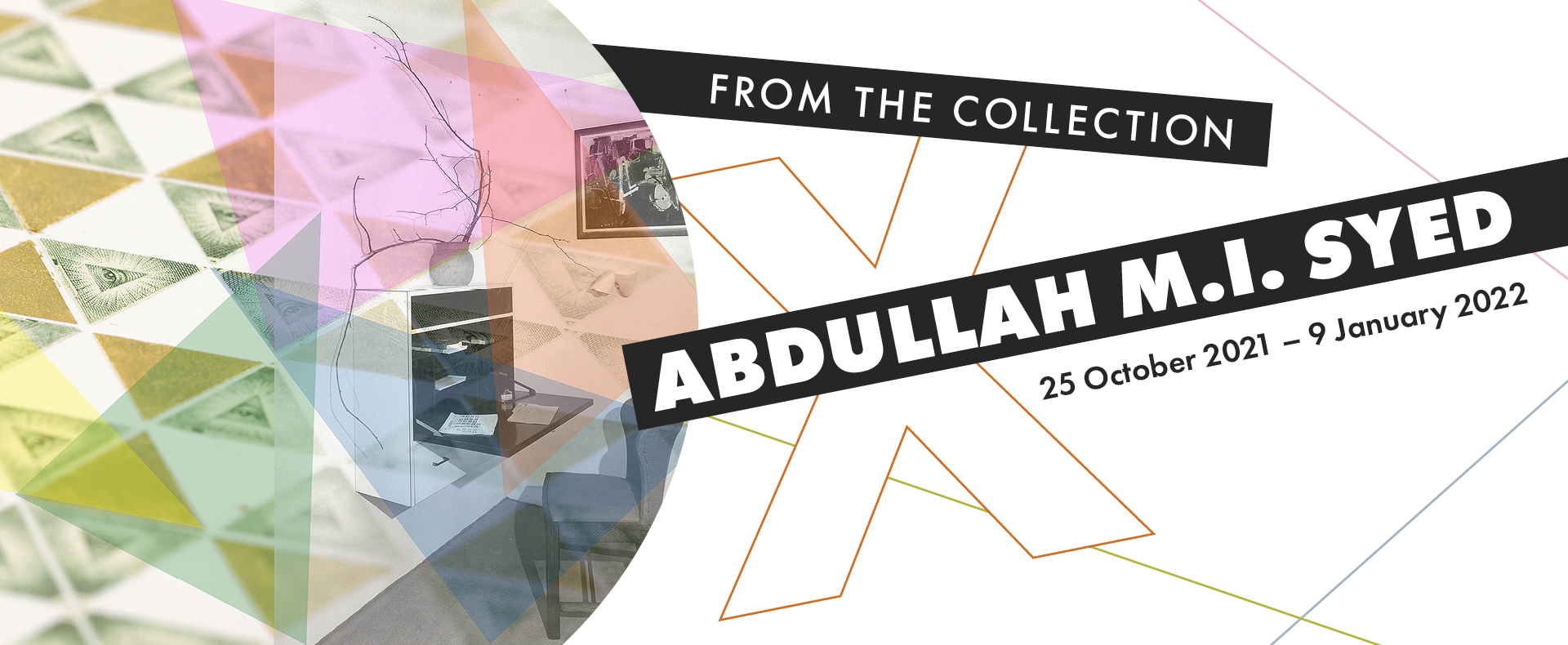 From the Collection X Abdullah M.I. Syed
Opening 25 October
From The Collection is a series of exhibitions, commissions and interventions presented in the spirit of Margo Lewers and her wish that her home and collection of artworks be gifted to the people of Penrith. This program invites artists, curators and members of the local community to engage with The Gallery's collection, providing fresh perspectives and insights.
With this iteration, Pakistani born Australian artist, Abdullah M.I. Syed has undertaken a short residency to research the influence of the Bauhaus School on Australian Modernism, specifically through the craft, design and fine art practice of Margo Lewers, whose father was a German-born grazier and artist. Syed's research will focus on Lewers' inventive use of coloured Plexiglas to investigate light and geometry and produce stunning abstract sculptural forms.
Abdullah M.I. Syed's response to these works, titled Unframing Sight: Transparency and Reflections includes the display of Lewers'  plexiglass works, along with Syed's own works, which echo his ongoing exploration of the Absolute, rooted in concepts of Nūr (light/illumination) and Islamic geometric design that focuses on the relationships between reflection and transparency, positive/negative space, as well as the artist and the Divine.
Abdullah M.I. Syed (b.1974) identifies his interdisciplinary and multivalent art practice as an archival form of manzoom muzahamat or poetic resistance, a form of activism that seeks to combat socio-political conflicts, apathy and disillusionment through ideas of shared vulnerability, self-love, care and storytelling. Working at the intersection of drawing, sculpture, video, textile, photography, and performance, his artworks often hover between the geometric abstraction of Minimalism and Islamic art and the figurative and vegetal elements. The resulting aesthetic propositions and interventions are dedication to surface and rhythm that is both formal and ideological. Syed has a profound scholarly interest in preserving heritage craft skills, material culture, and sacred knowledge that assist him in finding beauty in the mundane while coming to terms with his own displacement, anxieties and mortality.
Syed studied and taught art and design in the USA, Pakistan and Australia and earned a PhD in Art, Media, and Design (2015) and an MFA (2009) from University of New South Wales, Sydney. Syed is a member of eleven, a collective of contemporary Muslim Australian artists, curators and writers. In a career spanning 20 years, Syed's work has been featured in 12 solo exhibitions and several curated exhibitions and events including The National: New Australian Art, AGNSW, 2021; Common Threads Run Deep (2021), Gallery Sally Dan-Cuthbert, Sydney; Light upon Light, Aicon Contemporary, New York, (2021); Karachi Biennial (2019); ACAW Field Meeting Take 5, Asian Society Museum New York (2017); Nuit Blanche, Toronto (2015); Asia TOPA, Melbourne (2016); 4th ASNA Clay Triennial, Karachi (2012) and numerous art fairs including The Armory Show (solo booth, New York). Syed is the recipient of the IAO's Installation Artist award, USA (2003); Blacktown City Art Drawing Prize (2008); the NAVA Carstairs Prize (2017); NSW Artists' Grant (2019) and BarTur Photography Award for Humanity (2020).
Syed is represented by Gallery Sally Dan-Cuthbert, Sydney.
25 October 2021 – 9 January 2022
---