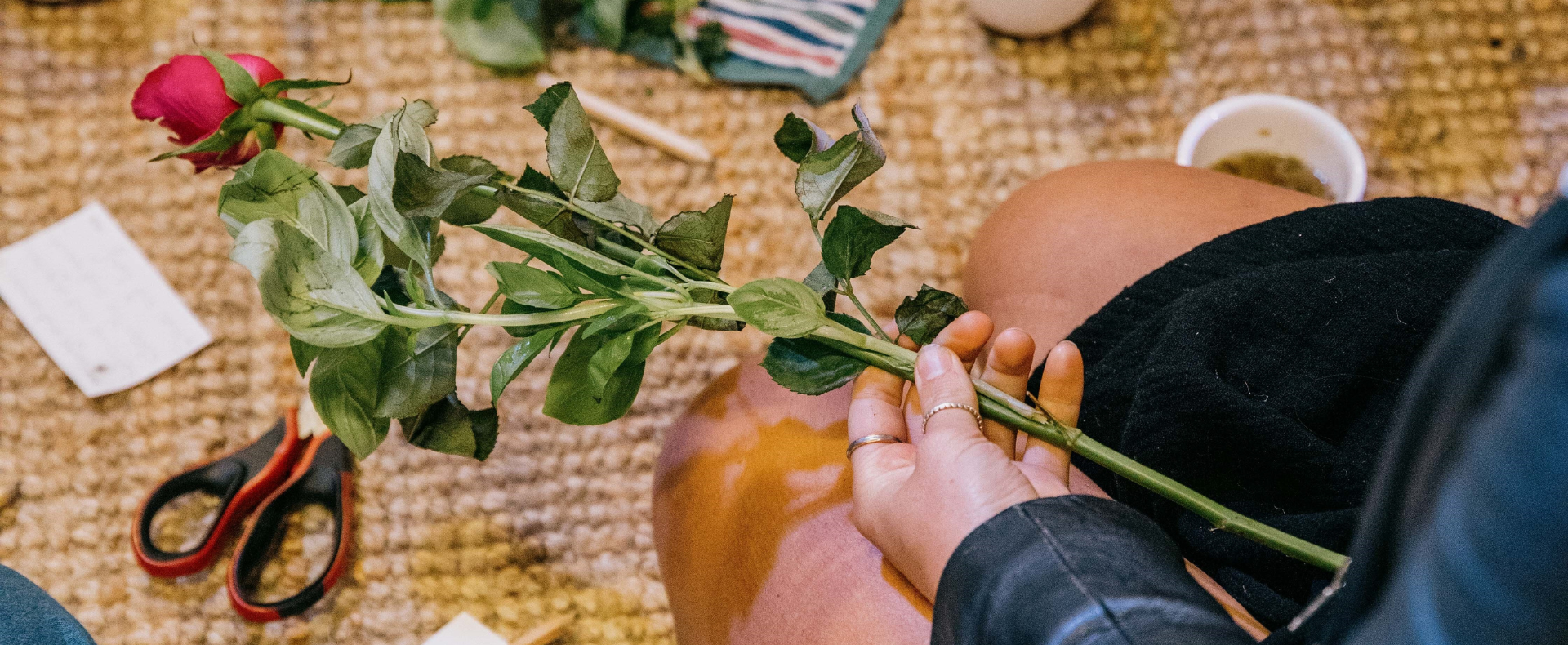 Photo
/ School of Water, 23rd Biennale of Sydney (2022) at The Waterhouse, The Cutaway at Barangaroo. Photograph: Four Minutes to Midnight.
Brewshop
Public Program
Sink in with Lleah Smith and Bronwyn Bailey-Charteris as they guide you through an intimate workshop where you will experiment with boiling, brewing and infusing locally sourced ingredients with rainwater. Gathering with a small group, you will test how different brews evolve, smell and taste, and consider how rain is intimately linked to our physical experience of the world. Participants will take home a glass flask of rainwater brew, infused with ingredients for use in the garden.
This workshop is designed for adults and families. Please note that all children must be accompanied by an adult to participate in this workshop. 
Bronwyn Bailey-Charteris
Bronwyn Bailey-Charteris is a Swedish/Australian curator, writer and lecturer. Her expertise is on the poetics and politics of eco-aesthetics with a special focus on water and hydrofeminism. She regularly contributes to international publications and programs on water and art, is a lecturer at Stockholm University, guest lecturer at Sydney University and a current doctoral candidate at University of New South Wales, where she developed her curatorial theory of art and water in the climate crisis, entitled the Hydrocene.
Lleah Smith
Lleah Smith's practice is shaped by three distinct modes of being, including her work as a pedagogical practitioner, her role as Curator, Programs and Learning at the Biennale of Sydney and as a PhD researcher who is focused on acknowledging the conceptual and creative rigour that is central to arts pedagogy.
Smith is committed to collective processes where 'learning' is the medium, the artwork and the education. She situates her work through the lens of relational pedagogy where dialogical exchange is central to the encounter and prioritises acts of care and hospitality as tools for generating soft spaces that can hold moments of discomfort.
By embodying a practice that is inextricably intertwined, Smith has delivered expansive projects across geographies, disciplines and fields of knowledge that have significantly informed her pedagogical approach including; Hidden Lessons, Museum of Applied Arts and Sciences, (2022), FUTURE SCHOOL, Cementa (2022), The Waterhouse, Biennale of Sydney (2022), anti-symposium: arts pedagogy as social practice, Biennale of Sydney (2022), Water Lessons, Biennale of Sydney, (2021-2022).
Brewshop is an intimate two-hour workshop that responds to the exhibition's theme of water and circulation. It can be read as an extension of Bronwyn Bailey-Charteris' exhibition piece, Precipitating the Hydrocene (I'm raining in your lungs), (2022), a text-based rain installation relating to rain as a durational performative practice.
It is a durational process and involves collecting rainwater from the gardens of Penrith Regional Gallery ahead of the Brewshop session. Collectively, we experiment with boiling, brewing and infusing place-based ingredients with the locally sourced rainwater. We also test how different brews evolve, smell and taste, and how rain is intimately linked to our physical experience of the world, and our bodily hydro-relations.
Brewshop intends to illuminate:
The importance of time, duration and process in the brewing journey, the time and the day enables points of connection to be made through storytelling and materials between those who gather to take part in the experience.
The importance of place. Rain water will be collected at the Penrith site and used in the brew.
The ways that water moves through the body.
The mouth as a site of knowledge making.
Brewing as a method that opens up possibilities for meaningful relational exchange.
It connects not only to place but also time. Brewshop features elements and ingredients that are ingested in the body between 10am and 12pm. This two-hour window holds varying degrees of opportunity and potentiality driven by an individual's cultural, social and intuitive preferences.