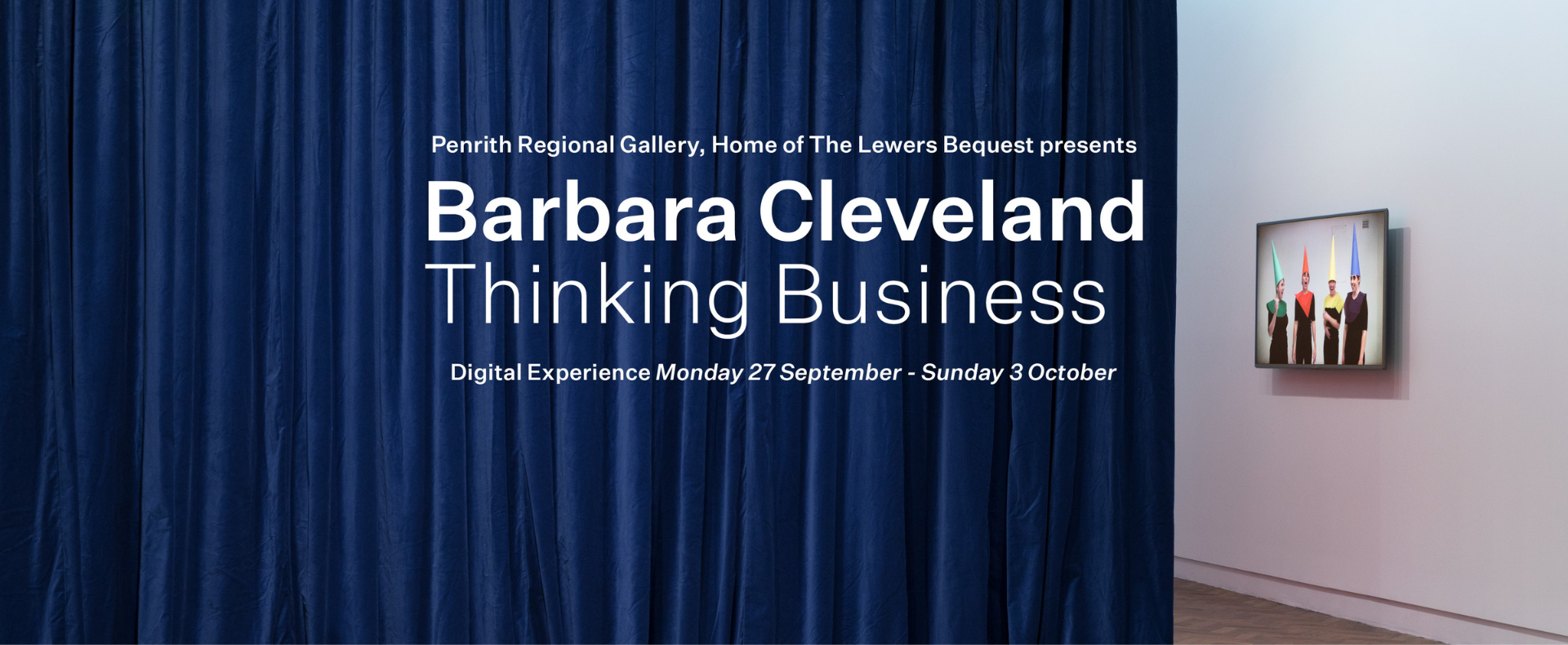 Photo
/ Barbara Cleveland, Thinking Business, installation view at Goulburn Regional Art Gallery, 2020. Photo by Silversalt Photography.
Barbara Cleveland
Thinking Business
A digital experience
To launch Barbara Cleveland's touring exhibition Thinking Business, Penrith Regional Gallery, Home of The Lewers Bequest and Museums & Galleries of NSW is hosting a series of online screenings that will grant access to the five video artworks that comprise this show. Click on the button below from 27 September – 3 October 2021 to view this digital experience.

Thinking Business is a survey exhibition of the Australian art collective Barbara Cleveland. Working together for over 15 years, Barbara Cleveland's practice draws on the historical lineages of both the visual and performing arts. Thinking Business presents a suite of videos, photographs and prints from Barbara Cleveland's archive.
The exhibition takes its title from author Hannah Arendt's description of her friendship with Mary McCarthy. As Arendt wrote, "it's not that we think so much alike, but that we do this thinking-business for and with each other." Thinking-business is the shared intellectual and creative pursuit between women. This term became a way for Barbara Cleveland to conceptualise and affirm their long term collaboration and the body of work they had amassed since 2007. In turn, Thinking Business speaks not only to the collective's unique mode of working together but, equally, to the larger thematics of female friendship, collaboration and artistic labour.
Barbara Cleveland is an Australian artist collective working in Sydney on Gadigal land. Founded by Diana Baker Smith, Frances Barrett, Kate Blackmore and Kelly Doley, the collective takes their name from a mythic feminist performance artist recovered from the margins of Australian art history, a figure who has featured in the collective's work since 2010. Through a queer and feminist lens their work has focused on questions of artistic labour, authorship, historiography and embodiment.
Thinking Business is a carefully curated survey of Barbara Cleveland's work and its presentation in Goulburn was their inaugural solo exhibition at a public gallery in Australia.
A Goulburn Regional Art Gallery and Museums & Galleries of NSW touring exhibition. This project has been assisted by the Australian Government through the Australia Council for the Arts, its arts funding and advisory body. Supported by the Restart Investment to Sustain and Expand (RISE) Fund – an Australian Government initiative.
27 September – 3 October 2021
---