Art Adventure – Term 2 (Ages 5 – 8) – SOLD OUT!
Term Workshops
Unleash your creativity as you paint, draw, print and sculpt away your Saturday mornings in our beautiful art studio. Build your artmaking skills across a variety of mediums and techniques and become inspired by some of the amazing artworks in the gallery collection and exhibitions as you are guided to complete a fun and hands-on creative project each week. All skill levels welcome, new art making projects each term.
5 – 8 yrs
Before signing up for our workshops at the Gallery, please read our Terms and Conditions and our COVID-Safe plan.
Creative Kids voucher accepted – bookings using Creative Kids voucher only applicable over the phone by calling 4735 1100 Monday to Friday between 9am to 4pm.
Saturdays 10 – 11:30am
Term 2: 7 May – 25 June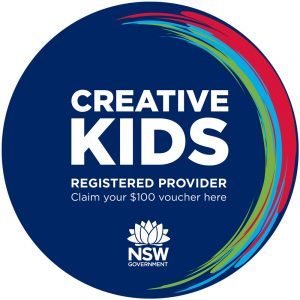 Create something great. Claim your $100 Creative Kids voucher today. As a registered provider for the Creative Kids program, you can redeem your voucher with us and let your child (5 – 18 years) develop new skills. Enrol them in a new activity so they can create something great. Your Creative Kids voucher will be available for redemption for our Term Workshops! Vouchers can be redeemed via in person or call us at 4735 1100. To register for your Creative Kids Voucher, please visit service.nsw.gov.au